About
Chrissy Spilson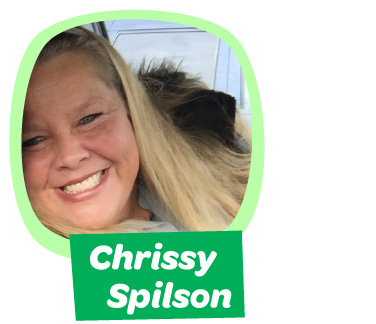 Program Specialist
Kalamazoo // 269.532.7023
Talk to Chrissy
Quote:
"You have brains in your head. You have feet in your shoes. You can steer yourself any direction you choose".
—Dr. Seuss
Known For:
Chrissy has always been known as the fun "Party Planner" or "Cruise Director" for any family, school, or neighborhood social event. She also is known for having a serious Pinterest addiction.
Experience/Education:
Chrissy has a Bachelor's Degree in Education from Western Michigan University with a triple Minor in Math, Science, and Creative Arts. She has over 20 years of experience partnering with students, families, staff, and schools to provide exceptional educational experiences and opportunities to a wide variety of students.
Chrissy participated in Girl Scouts as a child and was a Troop Leader for 5 years.
Responsibilities:
Chrissy is the Program Specialist for the Kalamazoo Region of GSHOM. She designs and implements programs that foster the girls' self-confidence, builds leadership skills, and motivates community involvement to make a positive impact on the World in which they live.
Fun Facts:
Chrissy loves to travel and is an avid Disney Fan. Her and her husband's photo is on permanent display at Epcot's Leave A Legacy Wall. She has two children that both attend Michigan State University. Go Green!