About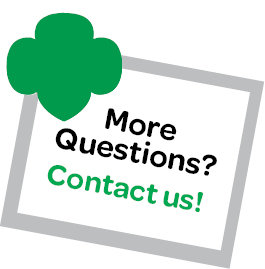 Frequently Asked Questions
Please visit our Social Issues & Religion page for facts regarding our position on issues of a sensitive nature.
Thank you.
Q. What is your event cancellation policy?

A. The weather in our great state of Michigan can be unpredictable. Since the safety of our girls, volunteers and families are our primary concern, weather conditions may cause a program event to be cancelled. Should this occur, participants will be notified via email and phone using the contact information provided on their event registration. Additionally, we will post cancellations on local news stations. All cancellations will be decided at least three hours in advance of the event start time.

In the event of a program event cancellation, we will attempt to reschedule the event. Credit will be given to participants who are unable to attend the rescheduled event.

If an event hosted by Girl Scouts Heart of Michigan or a third party is not cancelled due to weather, and participants choose not to attend, no refund will be given.

Q. Do all Girl Scout councils sell Girl Scout cookies for the same price?

A. Packages of Girl Scout Cookies sell for different prices in different areas of the country. Each of the 112 Girl Scout councils sets its own price, based on its needs and its knowledge of the local market. Today's prices reflect both the current cost of cookies and the realities of providing Girl Scout activities in an ever-changing economic environment.

Q. Why is the cookie sale later in my region?

A. Timing was part of our agreement with the cookie company and we received an additional 2¢ per box off our cost because we agreed to sell later in some regions. This may not seem like much, but the total savings is enough to fund one staff position.

Q. What is the benefit to customers when purchasing a box of cookies from our Girl Scouts versus Girl Scouts from a neighboring Council?

A. All proceeds directly benefit girls in the Heart of Michigan. 17% of the cost of cookies goes directly to the troop. 26% of the cost of cookies goes to the bakery. The rest of your $4 goes to support girls directly in Girl Scouting. The benefit of being with Girl Scouts Heart of Michigan means that our Cookie s fund our amazing Source Guide Programs like the Women's College Basketball games at University of Michigan, Michigan State University and Western Michigan University, Camps including Wacousta, Deer Trails, O'the Hills, Oak Hills, Linden and Merrie Woode, our five regional centers in Ann Arbor, Kalamazoo, Saginaw, Lansing and Jackson as well as funding assistance so that no girl will ever be denied the opportunity to become a sister Girl Scout based on a financial need.

Q. Why does Girl Scouts of the USA allow councils to set their own cookie prices?

A. Packages of Girl Scout Cookies sell for different prices in different areas of the country. Each of the 112 Girl Scout councils sets its own price, based on its needs and its knowledge of the local market. Today's prices reflect both the current cost of cookies and the realities of providing Girl Scout activities in an ever-changing economic environment. Up to 75 percent of the price of every package goes directly to Girl Scouts in your local area. To find out which local council serves your area, use the Find Cookies! search box.

Q. How do I get my daughter involved?

A. Girl Scouts is a volunteer based organization. Troops are based on grade level and can be found in most public schools, in many private schools, churches and some clubs and organizations. Receptions should fill out the interest form to get the appropriate information to the membership specialist. The membership specialist will contact the appropriate volunteer who will then contact the parent with the different troops and/or opportunities in their area.

Q. What numbers do I use to register my Juliette?

A. The first number is their region, then 9 (which denotes their juliette status plus their three digit area number. Example: If the girl lives in Plymouth in the Ann Arbor Region and is a cadette - she would be 49420. If they don't know their area - please have them write Juliette in there and what school they attend.
Other councils contact/phone numbers in Michigan:
GSSEM - 1-800-482-6734 (Greater Detroit area & Flint)
Shore to Shore - (866) 566-7434 (Grand Rapids to Traverse City)

Q. How often do troops meet, where do they meet, etc.?

A. There are many different ways troops meet. Most troops meet approximately twice per month for approx. 1 hour. Some troops meet once per month, others meet once per week. It all depends on the troop leaders' time allowances and the girls interests. The majority of troops meet at their local school, some meet at places of worship or community centers.

Q. What is the cost to be a Girl Scout?

A. Membership fees are $25 ($15 GSUSA National and $10 GSHOM). However, there is financial aid available for some or all of the cost. Troop dues are based on how often they meet and what activities they participate in. Girls are encouraged to participate in product sales (nuts & cookies) to help support their troop.

Q. There are no troops or my daughter can't fit in meetings, can she still be a Girl Scout?

A. Yes, Juliettes is designed to allow girls to participate individually. Girls choose their interests and their parent often acts as mentor and troop leader. Call your Regional Service Center and ask for the Juliette Advisor.

Q. My daughter hasn't been a Girl Scout since 1st grade - she's now in 5th grade, can she participate?

A. YES, nothing is cumulative in Girl Scouts. Some girls are really active in Girl Scouts and other have many different interests and can only participate occasionally or certain years.

Q. What do they do in Girl Scouts?

A. The beauty of Girl Scouts is that the girls (with the help of their leader) choose their activities based on their interests. Some troops love badges, others love crafts. Some troops only work on outdoor related activities. They all have fun.

Q. Girl Scout Levels - What do they mean?

A. Girls are placed into levels based on their grade level. This is a way to have girls of similar interests together and to provide a safe environment for them.
Daisy: Kindergarten and 1st grade
Brownie: 2nd & 3rd grade
Junior: 4th & 5th grade
Cadette: 6, 7, & 8th grade
Senior: 9th & 10th grade
Ambassador: 11 & 12th grade.

Q. What is Girl Scouts' process for reviewing materials?

A. Girl Scouts constantly reviews our materials based on feedback and suggestions we receive from our members, and we update our materials on a regular basis. As a result of this process, upcoming reprints of Journeys materials will not include playwright Josefina Lopez or links to the Women's Media Center or Media Matters. Councils will be notified of changes that are made in the future, and information on changes will be posted on our corporate website. We also are making changes on our corporate website to ensure appropriateness of content.

It is important to note that our materials feature more than 200 women and girls from many walks of life who have worked to make a difference in the world, and while we may not agree with the opinion of everyone featured, we believe they embody the commitment to leadership that we strive to teach our girls.

Q. Does Girl Scouting support families of faith?

A. Yes. Girl Scouting supports girls from all backgrounds and beliefs. While we are a secular organization that refrains from teaching religious or spiritual beliefs or practices, we believe that the motivating force in Girl Scouting is a spiritual one, and we greatly value our longstanding partnerships with religious organizations across many faiths that share the values of the Girl Scout Promise and Law.

We encourage girls to develop connections to their own spiritual and religious beliefs by earning recognitions provided by their faith communities and by earning the new My Promise, My Faith pin, which helps a girl deepen the connection between the Girl Scout Law and her faith. We support the right of faith leaders to verify that program delivered to girls in their places of worship is consistent with their faith's teachings.

Q. What is GSUSA's relationship with the World Association of Girl Guides and Girl Scouts?

A. The World Association of Girl Guides and Girl Scouts (WAGGGS) comprises 145 member organizations that promote mutual understanding and cross-cultural opportunities for girls around the world. Girl Scouts of the USA is one of the 145 member organizations.

Each member organization creates its own programs and pursues advocacy efforts based on the needs and issues affecting girls in its individual country. GSUSA does not always take the same positions or endorse the same programs as WAGGGS. GSUSA's relationship with WAGGGS is akin to the United States' relationship with the United Nations (UN). The United States may not agree with every position the UN takes, but values having a seat at the table.

Q. Does GSUSA have a financial relationship with WAGGGS?

A. Every Girl Scout and Girl Guide organization is a member of the World Association of Girl Guides and Girl Scouts—and each Member Organization, including Girl Scouts of the USA, pays dues. WAGGGS operates in much the same way as the United Nations: Each Member Organization pays dues based on the size of its membership and the per capita income of the country in which the organization resides.

Q. Are girl membership dues used to pay the WAGGGS quota?

A. Membership dues from girls and from adults are not used to pay the WAGGGS quota. All dues collected from Girl Scout members are used to pay for services that directly impact the development and delivery of Girl Scouting to girls in the USA and girls who are involved in USA Girl Scouts Overseas, our program that brings Girl Scouting to American families who live and work abroad.

Q. Is any money from Girl Scout cookie activities used to pay the WAGGGS quota?

A. No, all of the money from Girl Scout cookie activities stays at councils. The national funds that GSUSA sends to WAGGGS come solely from investment income.

Q. Are girls individual members of WAGGGS?

A. No, individual girls are not members of WAGGGS. Girl Scouts of the USA is a Member Organization of WAGGGS.

Q. Do girls have to wear a WAGGGS pin?

A. Girls wear the WAGGGS pin to represent their connection to the worldwide sisterhood of Girl Scouting and Girl Guiding. For a girl to be in uniform, the only requirement is that she wears her Girl Scout pin.