About
"Mom, we have to go to every one of the Fab Five."
Posted on 10/04/2012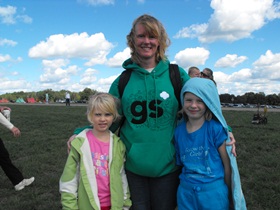 When sisters Elizabeth and Nicole Benson experienced the Lansing Sing-along last March, they were sold on the Fab Five events. "Mom, we have to go to every one of the Fab Five," the girls told their mother, Kaci.
"My girls have been the driving force behind our attendance at every Fab Five event," said Kaci Bensen, who leads her daughters' Daisy and Brownie troops in St. John's. "I wanted the girls to go to the sing-along to see that, as Girl Scouts, they are part of a large movement. When they had such a great time in Lansing, even freezing in the parade, I knew there was no stopping them."
"Being from St. John's, we were familiar with the Lansing area, but we wanted to experience the other cities in Girl Scouts Heart of Michigan," said Kaci.
That's why the Bensons were part of the Kalamazoo Invasion in June and the Supersized Jamboree and Pow Wow in Jackson in September. They plan to celebrate the Juliette Gordon Low Birthday Party in Midland on October 20 and the Fab Five finale, Bridging to the Next Century, in Ann Arbor, on March 2, 2013. All five celebrations mark the 100th anniversary of Girl Scouting by Girl Scouts Heart of Michigan.
The girls' most memorable Fab Five activity so far?
Nicole loved the monkey parachute drop at the Kalamazoo Invasion, or, as she says, "I really liked throwing the monkeys off the cliff."
The girls released small plastic monkey figures tied to paper parachutes from the outside balcony at the Kalamazoo Program and Training Center. The "monkey drop" was a game in which the winner's monkey was supposed to land inside a chalk circle on the pavement. But, the wind was so strong in Kalamazoo that day in early June that it carried the tiny parachutists far beyond their targets and sent them "flying" across the parking lot.
Nicole thought that was too cool! Her mom used the experience as a teaching moment so the girls could learn about air currents.
Elizabeth likes "everything" about the Fab Five – making bottle rockets, tie-dyeing handkerchiefs, playing in the bounce houses, to name just a few activities. But the coolest thing about the year-long celebration of Girl Scouting's centennial for Elizabeth is that Girl Scouting turned 100 years old on her own birthday – March 12.
(And, Elizabeth was actually born five weeks early in order to arrive on March 12! Talk about dedication to Girl Scouting in the Benson family!)
Kaci, who is celebrating her 30th year in Girl Scouting this year, is proud that her daughters have chosen to be in Girl Scouts, especially when even younger girls have so many choices of extra-curricular activities these days.
"Girl Scouting gives girls exposure to so many aspects of life so easily, to opportunities that families just cannot provide on their own," she said. "They learn about community service, the arts, travel, business – Girl Scouting truly opens their eyes to new possibilities.
"I cannot imagine being where I am today or being who I am today without Girl Scouts."
What advice does this "seasoned" Fab Five family have for others attending the two upcoming events?
1. Make a plan. Discuss all of the offerings and decide which ones are most important to you. Strategize, then work your plan.
2. Don't rush through every activity. Allot enough time to enjoy each one, especially for younger girls.
3. It's better, especially for younger girls, to focus on the quality of the experience, rather than the quantity of activities.
Experiencing the Fab Five events in Girl Scouts Heart of Michigan and getting a taste of what each GSHOM region has to offer has inspired the Benson family to explore our state.
"Living in Michigan," said Kaci, "I've driven past Kalamazoo, Jackson, Midland many times, but I never thought to stop there for a visit. If not for the Fab Five events, I would have no idea about museums or art galleries in each town.
"I told my husband that we should plan some weekend trips to explore each city. We get a lot of travel information about out-of-state destinations, but the Fab Five and Girl Scouts Heart of Michigan has shown us that there is so much to do right here in Michigan!"
For more information about FAB 5 Events, visit www.girlscoutbirthday.com.