About
Honor Guard on Mackinaw Island Does GSHOM Proud
Posted on 12/10/2012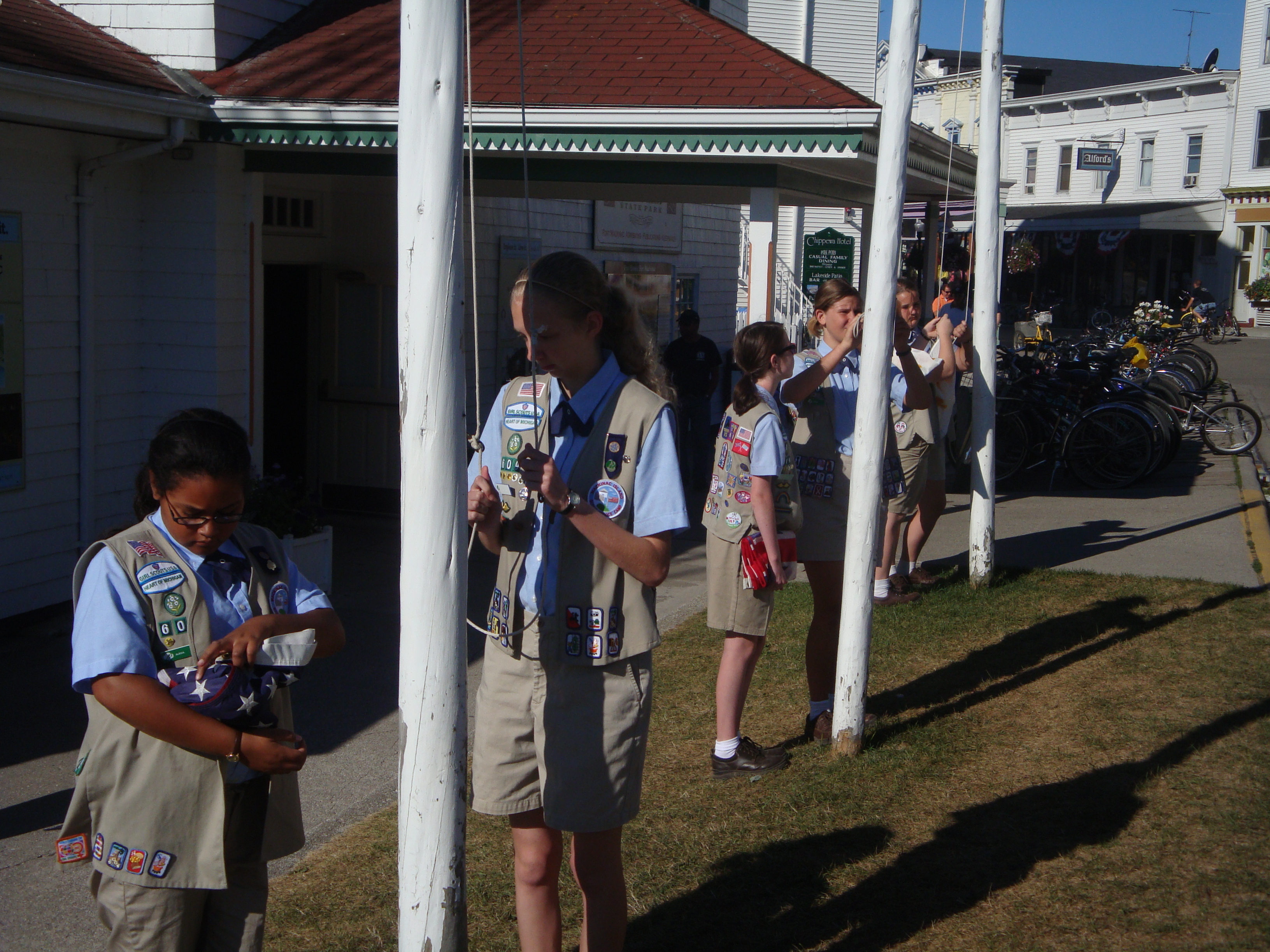 FLINT – The perks which come with being a Girl Scout are limitless.
Spending one week of the summer on Mackinac Island as a member of the Governor's Honor Guard is one of these perks which leave a lasting impression on the girls and adult volunteers fortunate enough to be selected and the tourists who see them.
"Some people will say that they have never seen Girl Scouts that old and a lot of younger girls will come up and tell us that they can't wait to be a part of the Honor Guard," said Brenda Coleman, a Flint resident and volunteer director of the Honor Guard Troop #609. "We really stand out on the island."
In addition to Troop 609 which is overseen by Michelle Holmes, GSHOM Program Specialist for Lansing and Saginaw, Troop 7901 also participates in the Honor Guard under the direction of Erin Mattimoe, GSHOM Program Specialist in Ann Arbor.
In a way, the Honor Guard is to Girl Scouts Heart of Michigan what the Thunderbirds are to the U.S. Air Force because of the unique way they are able to promote GSHOM.
The primary duty for the 56 girls who annually participate in raising and retiring flags in various locations on the island, including Beaumont House and the Visitors Center. These flags include the America, British, Candadian, French and Michigan flags.
"The flags all have to come down at the same time," said Holmes. "There are several sets. It takes 20 girls to raise the flag inside Fort Mackinac because it's huge."
While the flag ceremonies are impressive to watch, Holmes said the girls marching in formation also is a sight worth seeing.
"It's just phenomenal to watch them march in an orderly fashion," she said.
Coleman said about 74 girls applied to be part of the Honor Guard. Those who are selected commit to four training sessions and adult volunteers also must participate in training sessions.
The girls are responsible for planning out their week which includes choosing a theme and their meals. They stay at the Scout Barracks on the island and do all of the cooking and cleaning and support each other in their duties. When not attending to the flags, they serve as tour guides at specific buildings and answer tourists questions.
The Honor Guard began in 1972 after Helen Milliken, wife of former Michigan Gov. William Milliken, wanted to give Girl Scouts the same opportunity that the Boy Scouts had. Helen Milliken, who passed away in November, was an advocate for women's rights and environmental issues and remained so even after she and her husband stepped away from the political limelight.
Coleman, an IT project manager for Diplomat Specialty Pharmacy, was a member of Troop 609 for five of the 12 years she was in Girl Scouting. She said as soon as she was old enough she applied to be an adult leader.
"When I was a girl in the program that's how I gained leadership skills and speaking skills which I was able to take into my professional life," Coleman said. "I think it helps girls and the volunteers grow because of the teamwork involved."
She said she really enjoys watching the girls grow and develop courage, confidence and character.
"When they're in sixth grade they're kind of shy and watching them develop their leadership skills, when they graduate they're just amazing girls," Coleman said.
"The thing I struggle with the most when they're in the Honor Guard is that we have rules they have to follow and I want to make sure they're having a good time and getting good experiences while following those rules."
In 2013 Troop 609 will celebrate its 35th anniversary. Coleman said she has remained in touch with many former members of the troop and looks forward to a reunion to celebrate the milestone.
"It's awesome. We're just like a family," she said.