About
Girl Scouts collect more than 2,000 books for Literacy Night
Posted on 03/08/2013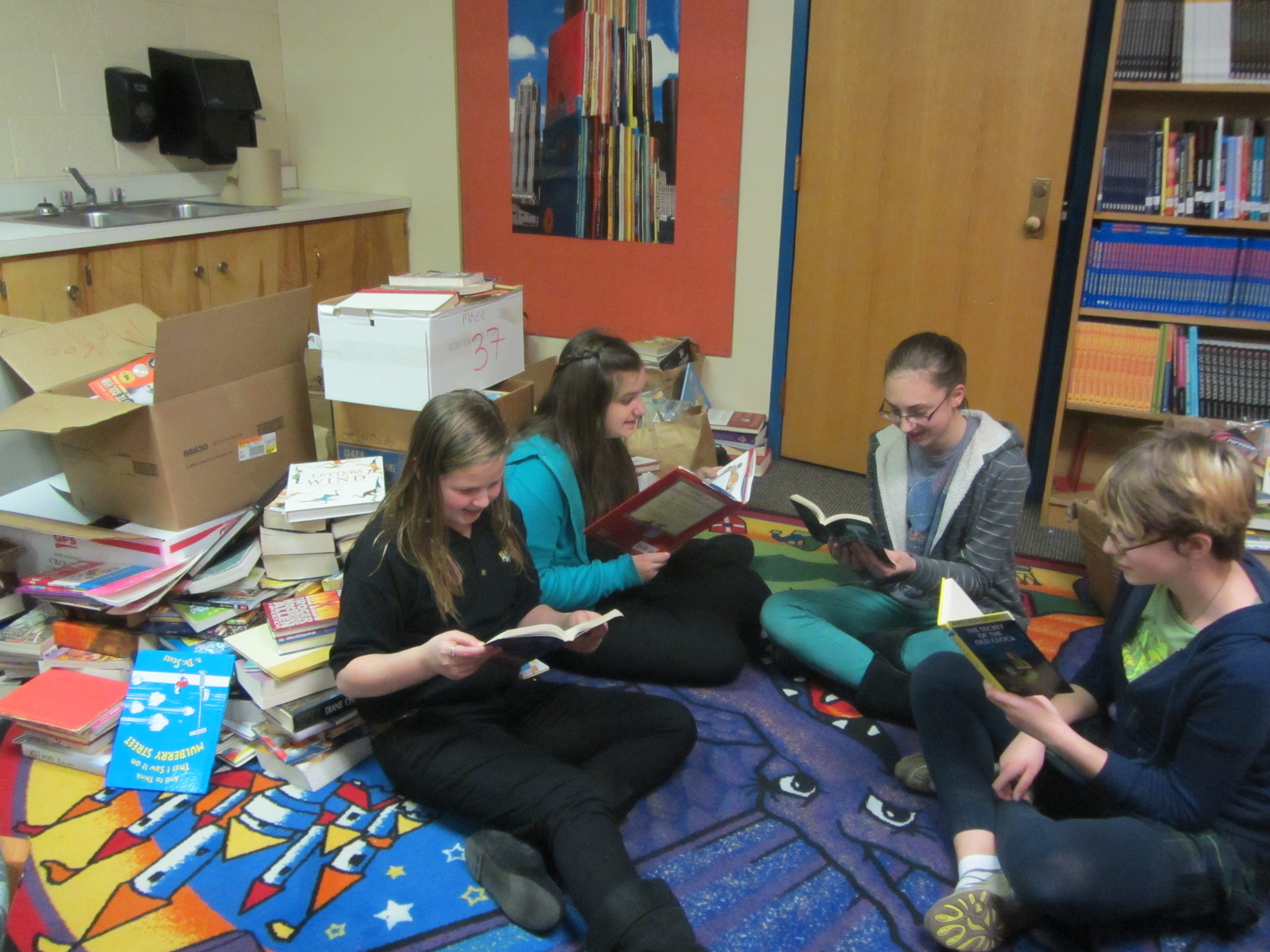 KALAMAZOO – Creating a new storyline for a "Literacy Night" event at Maple Street Magnet School involved the collection of more than 2,000 books by girls in Cadette Troop 80683.
Four of the eight girls in the troop participated in the Book Drive which began on February 12 and ended on March 1, said Dawne Beougher, troop leader.
"Some of the girls attended a previous Literacy Night event at Maple Street and thought it was pretty lame," Beougher said. "Literacy Nights at their elementary schools were a big deal with activities and they wanted to do something so they came up with a Book Drive to get the other kids excited about Literacy Night."
The Cadettes, members of Girl Scouts Heart of Michigan, turned it into a competition with the winning team getting a Girl Scout Cookie Party. Two teams collected more than 800 books each and the Cadette troop ended up winning by a total of five books. In addition to this competition, they also held a bookmark design contest which was won by 6th grader Abigail Hauke, who will receive two boxes of Girl Scout cookies of her choice.
The Book Drive is part of the troops Silver Award project, Beougher said. Girls who are members of Girl Scoust Heart of Michigan have the opportunity to develop and implement projects which will earn them the Bronze, Silver and Gold awards. The Gold Award is the highest honor bestowed by the Heart of Michigan Council which serves more than 20,000 girls in a 34-county area.
In order to receive the Gold Award, a girl must develop a project that will improve the quality of life in her community and be sustainable, said Jackie Bucsi, chief membership and program officer with Heart of Michigan.
"These are by no means insignificant projects," Bucsi said. "They require a great deal of time and effort on the girls' part. They must secure any funding required to pay for materials and find individuals willing to help them make it work."
Past Gold Award projects include assembling comfort kits for children in transitional housing situations, refurbrishing of rooms at homeless shelters, and cleanup efforts at local public parks.
Beougher, assistant to the Vice President of Kalamazoo College, said the girls in her troop made posters to promote the Book Drive and put them up around the school; wrote a script for the school's Morning Announcements and secured teachers who volunteered to take in the books from each team.
The books – some new which were donated by the Book Bug and the remainder which were used - were sorted by age level. The school librarian was able to select books for the library and teachers were able to choose books for their classrooms. Books also were made available to Parkwood-Upjohn School which distributes a book to each family during conferences and to Better World Books, a nonprofit organization which donates books to places in need all over the world.
Beougher said the Book Drive is the largest project that her troop has done. She said they have volunteered with a local animal shelter and participated in Kalamazoo's St. Patrick's Day Parade.
"One of the mom's of a girl in the troop who participated in the Book Drive said her daughter hadn't been as excited about anything happening at school in a long time," Beougher said. "I think all of the girls had a sense of camaraderie and doing something bigger than themselves."
Beuogher, a former Girl Scout, said he became a leader five years ago when her daughter was in third grade.
"I did it because nobody else wanted to," she said. In addition to her daughter' Cadette troop she also leads a Brownie Troop 80412.
"My niece is in that troop," Beougher said. "I promised her that I would do it."
During the holidays she brings the girls in both troops together to do a cookie swap.
"I have always just had a lot of fun with Girl Scouts," Beougher said. "It's a safe place for girls because they can talk about things. They have a sense of community with each other. They're starting to realize it can be easy and fun to do something for other people.