About
Girl Scout puts on anti-bullying program in Kalamazoo
Posted on 03/18/2013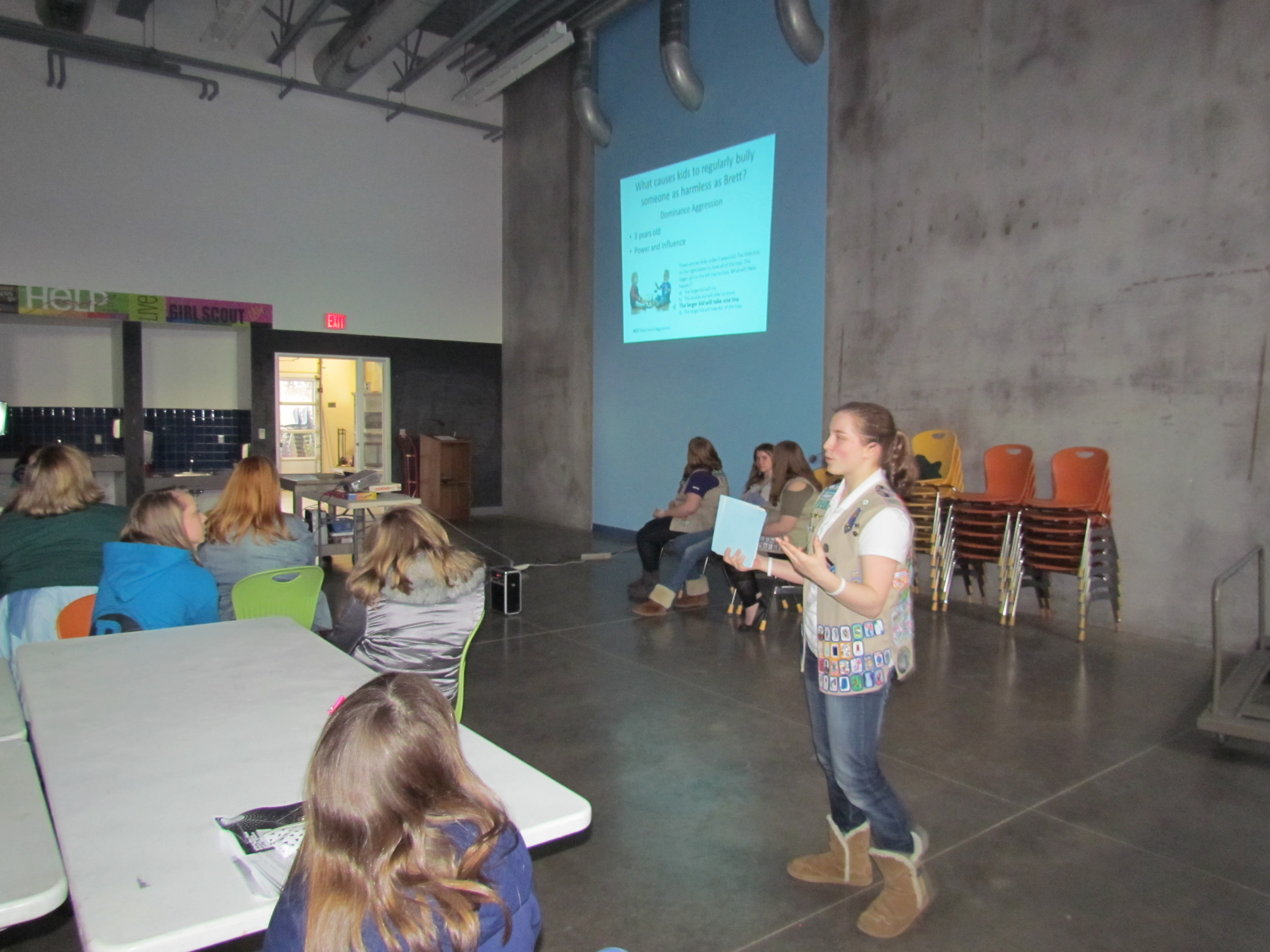 KALAMAZOO – "That's Not Cool" is an anti-bullying program developed for Girl Scouts, but troop leaders end up learning as much if not more then their girls.
Maddie Rayner, a sophomore at Marshall High School and a Senior Girl Scout, developed the program and presented it to about 50 girls and adult leaders Saturday evening at Girl Scouts Heart of Michigan's Program and Training Center.
Maddie said she decided to become a part of the solution to bullying after the death of Pheobe Prince, a 15-year-old high school freshman who had moved with her family from Ireland to Massachusetts. Pheobe was the victim of bullying from classmates after she dated a boy in the senior class.
"She felt like the entire school ganged up on her and on January 14, 2012, she hanged herself in the stairwell of her apartment building," Maddie said. "Bullying is never acceptable."
Sherri Reese, leader of Troop 9079 in Bronson, said she and assistant troop leader Donna Kelley, attended the program because they wanted to learn more about the issue and how they could better help their girls. Reese said she's never sure what type of anti-bullying training the schools provide to students.
"A lot of what (Maddie) said was new to me and she gave me new ideas on how to approach the different roles involved in bullying," Reese said.
Some of what Maddie said impacted Reese on a personal level.
"When my grandson was in Kindergarten last year he had his face rubbed in the ground a lot," Reese said. "The whole of last year he didn't want to get on the bus or go to school."
The choice we all have is to, "educate early or clean up afterwards," Maddie said.
The three characteristics of bullying are that it causes harm, an unfair match with an uneven number of people targeting one person, and repeated verbal or physical ridicule. The person being bullied is often left with feelings of hurt, hopelessness and devestation.
"It feels like it's the worst thing in the world," Maddie said.
The root cause is a behavior known as Dominance Aggression which typically begins at age 3 and is present in all human beings. It allows people to get away with behaviors or actions that they normally couldn't get away with because they may possess physical attributes like being taller, older or stronger. Ideally, the person exhibiting negative behaviors learns from it, but even adults don't always get it right.
Maddie cites reality television shows which are rife with examples of bullying and bad behavior.
"Kids should be exposed to kindness and empathy and an appreciation for diversity and celebrating people's differences," she said. "It's important for people to learn how to control the power they have. Some people never learn and think they can hold any power they have over people's heads."
Kelley said she fought her son's school on a daily basis because of the bullying he suffered. Her son, 15, was diagnosed with Aspergers Syndrome, and her daughter was diagnosed with Attention Defecit Hyperactive Disorder.
"I felt like my hands were tied because I didn't know how to teach them about Aspergers and when my son started standing up for himself the school went against him," Kelley said. "They saw him as a threat when he started acting out. With Aspergers children schools don't know what to do."
Clothes and money are a huge symbol of power, especially in middle school, Maddie said. The bully or aggressor is cruel and overbearing, particularly with physically smaller or emotionally weaker people.
Physical bullying accounts for about 30 percent of all bullying incidents and verbal bullying accounts for about 7 percent with the remainder being bullying tactics such as cyberbullying, nonverbal or nuisance bullying. Each type of bullying focuses on dehumanization of the target, but the latter types often involve ignoring someone or whispering about them in front of them.
"More than half of all students in the 5th grade and up report either being cyberbullied or knowing someone who has," Maddie said.
Reese said she remembers an overnight troop meeting where the girls were studying bullying issues for a Journey.
"It was heartbreaking listening to these girls and every girl there that night had been bullied," she said.
Aggressors tend to be very popular and hot-tempered. By the time they reach age 24 about 60 percent of them have a criminal conviction.
On the flip side, targets tend to give up hope and stops trying to make their world better.
"They have a low self-esteem, skip schools and have a reduced chance of finishing high school," Maddie said. "When girls become adulots they often find themselves in abusive relationships because they don't know how to take care of themselves."
Or, they do what Pheobe Prince did.
"Like Pheobe Prince they think it might be better to take themselves out of this world," Maddie said. "I don't know how anyone could feel good about themselves knowing that they are the reason someone else is no longer here."
Clothes and money are the major causes of bullying in middle school, but about 30 percent of young people with food allergies also are bullied. Most of the bullying occurs in school lunchrooms which don't have adequate staff to monitor student behavior.
"In most bullying episodes peers are present," Maddie said. "When people do step in bullying stops within 10 seconds more than half of the time."
For this reason Maddie said bystanders play a critical role.
"We all have the power to make things better for someone else," Maddie said. "It doesn't take much to make someone else feel good about themselves."