About
Girl Scouts Help Homeless Children
Posted on 05/28/2013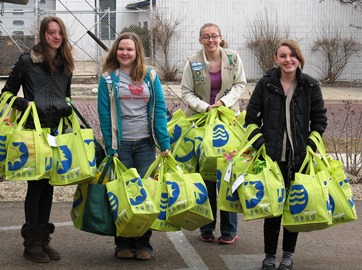 KALAMAZOO – Babies and toddlers staying at the Gospel Mission with their parents were the beneficiaries of a project which earned Cadette Girl Scouts with Troop 80809 the Girl Scout Silver Award.
The award, the highest achievement for Girl Scouts ages 11-14, requires girls to develop a project which benefits the community. The final project must include at least 50 hours per scout. Members of Troop 80809, from Vicksburg, put in more than 340 hours.
The girls' project was focused on helping the Kalamazoo Gospel Mission's youngest residents. After researching the homeless issue the homeless in Kalamazoo County, the troop contacted the Kalamazoo Gospel Mission and learned that they had a childcare program known as "Sonshine Kids."
The childcare program provides a safe place for the children while parents attend programs that the Gospel Mission provides. In order to learn more about the Gospel Mission's childcare program and what their needs might be, the girls volunteered over the summer to help out there.
"We got to work with homeless children and see them smile, and seeing them happy made me happy," said Brianna McNees.
After spending time with the children at the Gospel Mission the troop decided to make "Sonshine Kits" for the babies and toddlers. Each kit contained 10 "care" items such as a pillow & blanket, socks, bibs, wipes, etc.
The troop received donations of supplies from the Family Fare store in Vicksburg; the Meijer store on Shaver Road; and a Wal Mart store in Portage. Through monetary donations and fundraising, the girls raised over $450 for the kits. With this money, plus donated items, the troop delivered 40 Sonshine Kits to the Gospel Mission. In addition, they donated several cases of Girl Scout cookies.
Emmaline Miller said she worked together with fellow troop members, Sonshine Kids, and the community to create awareness about the project.
"I educated my family and friends about homeless kids and they are inspired to help," said Sage Moser.
When the troop had time to reflect on and celebrate their project Julie Gettle, summed it up by saying "Girl Scouts means amazing opportunities and becoming a better person."
Six of Vicksburg's Cadette Girl Scouts in Troop 80809 have earned the Girl Scout Silver Award. Silver is the highest award available to Girl Scouts 11-14, and is second only to the Gold Award, which is the highest award in Girl Scouting. The girls are required to identify an issue they care about and then develop a project that benefits their community. Scout Paryn Norman said, "I have seen people in the community that need help. I know how to help, and I'm eager to help."