About
Our Camps Are Open
Posted on 05/28/2013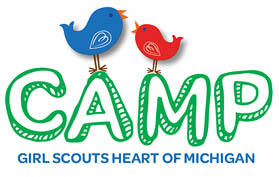 We are aware of stories circulating on various media outlets about the closure of Girl Scout camps around the United States.
Please be assured that camps owned by Girl Scouts Heart of Michigan are open for business and ready to give girls a great outdoor experience this year.
We have no intention of closing any of our resident camps. In fact, we are re-opening several of our camp properties this year including Camp Oak Hills in our Saginaw region where resident camp will be offered this summer.
For the first time since the merger-driven formation of our Council five years ago we are offering day camp at all of our regional centers. These are located in Jackson, Kalamazoo, Lansing, Saginaw and Ypsilanti/Ann Arbor. We also have increased our camp programming throughout the 34 counties we serve and plan to continue offering girls an authentic Girl Scout camping experience.
In addition, we are letting those councils which have decided to close their camps that we welcome the opportunity to serve their girls. Please help us spread the word about this and all of the other great things we have going on here at Girl Scouts Heart of Michigan.