About
Laingsburg Girl Scout Troop 30472 Earns Silver Award
GSHOM on 05/31/2013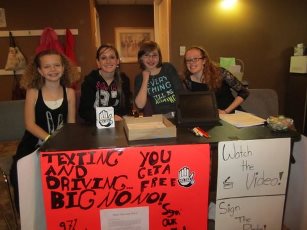 Four Laingsburg Middle School Girl Scouts have earned their Silver
Award. This is the highest Award a Cadette Girl Scout can earn. The
girls decided to inform people about the dangers of texting and
driving. The project was selected due to a personal tragedy involving
texting and driving.
Through research the girls discovered that 60% of drivers use cell
phones while driving and that more than 100,000 crashes a year involve
drivers who are texting, causing life changing injuries and deaths.
The girls are asking both teens and adults to sign a pledge promising
that they will never text and drive again. Upon signing the pledge
people are then given a "No Texting and Driving" sticker, which was
donated by AT&T.