About
Stove to burn brightly in honor of longtime Girl Scout leader Helen Survilla
Posted on 06/13/2013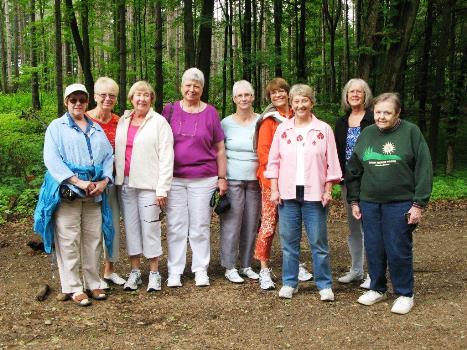 PLAINWELL – Helen Survilla's impact on members of a Girl Scout troop she began leading in the 1950's will burn brightly for future Girl Scouts who stay at Camp Merrie Woode's Monroe Hall.
A plaque bearing photos of Survilla and members of Troop 39 was placed on a wall inside Monroe Hall on Tuesday and a wood-burning stove purchased by her troop, with memorials made in her name, was fired up in the kitchen. Survilla passed away last year at the home she and her husband retired to in Arizona.
"She would be a little bit overcome," said Caroyln Hornev, Survilla's daughter and a member of Troop 39. "She wouldn't have believed we'd have thought to do this. I'm sure she had no idea how many memories she created for us."
Over steaming plates of scrambled eggs and sausage eaten at picnic tables inside Monroe, those memories were shared by Hornev, her brother, members of the troop and some of their sisters. The size of the troop varied between eight and 15 girls throughout the course of their time together, Hornev said.
Sue Pyke smiled tearfully as she looked at the plaque's troop picture which included her younger sisters Lucinda and Barb, who had traveled from Maine and Grand Haven respectively for the gathering. Pyke had no idea that her sisters were in the photo even though her fellow troop members did.
"My sister Lucinda was going to be visiting here in town for this particular day which was also when this memorial was set," Pyke said. "They weren't both in this troop, but for some reason they are both in this picture."
Hornev said Girl Scouts was a very important part of her family's life. In addition to herself and her mother, Hornev's father and brother spent many a day at Merrie Woode helping staff and volunteers maintain the property while getting in some time on the lake fishing.
"When we were in second grade I wanted to be a Brownie and there was only one troop and it was full," Hornev said. "My mom said she would do it."
The leader of the troop which was full, decided to step down a short time later and Survilla absorbed those girls into her troop.
This was more than 40 years ago when the Milwood neighborhood was not yet part of the city of Kalamazoo. The girls in Hornev's troop all met as children growing up in Millwood. They are part of a larger group which has kept in touch with each other.
"Most of us went from K-9th grade together," Hornev said. "We have reunions every five years of our junior high class and once a month we get together for lunch."
Such devotion to each other and their memories is a rarity in a world where texting has supplanted talking and the collection of memories is frequently captured on Smart phones.
Carol Malmud said when she left Kalamazoo for the East Coast; she took a trunkful of memories from Millwood and Kalamazoo Central High School, where she attended school, with her. In between all of her moves, which took her from the East Coast to the West Coast and finally to Galesburg where she and her husband now live, that trunk was stolen. As she recounted memories of Monroe, the lake and the infamous outhouse, she said she was trying to find herself in the troop picture on the plaque.
"I remember going all the way through Girl Scouts with Mrs. Survilla. One time we took flying lessons in a seaplane," she said. "I love the Girl Scouts. It has always been part of my life. It really helped me to grow as a person."
Janet Flamm, of Kalamazoo, credits Hornev with keeping the group together and the Girl Scout memories alive.
"I remember the old stove and when it wasn't there anymore," Flamm said. "Helen would have been absolutely thrilled. We used to spend weekends out here in the summer and winter and she would get up several times during the night to keep the heat going for us. I think the stove is an absolutely wonderful memorial to her."
Hornev agreed that the plaque and the stove are fitting tributes to her mother and serve as a little piece of history for girls who will spend time at Camp Merrie Woode.
"It's exciting to me to see my mom's name associated with something she passed on to us – a love and appreciation of nature, doing things together that we would appreciate for the rest of our lives, and working together to accomplish things," Hornev said.
Pictured: Sister Lucinda, Sue Pyke, Sister Barb, Janet Flamm, Carol Malmud, Joan Robbins, Carolyn Hornev, Bette Popp, Ann Perry