About
Girl Scout's Tall Ship Voyage of Discovery
GSHOM on 08/19/2013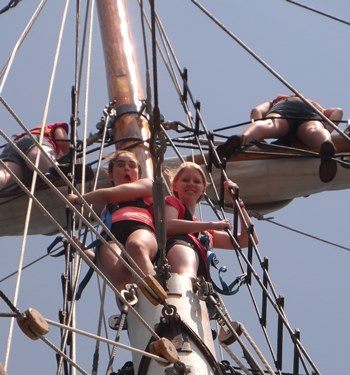 BAY CITY – Holly Sova's weeklong sail on a tall ship was a voyage of discovery.
Holly, 17, who will be a senior this fall at Bay City Central High School, said she learned as much about crewing on the STV (Schooner Training Vessel) Unicorn as she did about herself. She was one of six girls who spent the week of July 14-19 training under the steady hands of an all-female crew of six, employed by Sisters Under Sail, a New Jersey-based nonprofit lead by Dawn Santamaria.
"There was a lot of self-discovery and that's one of the mission's of this trip," said Holly, a Girl Scout Ambassador with Troop 50231. "I felt like I really discovered myself in a way and I now know I can do more than what I thought I was capable of."
The trainees and their crewmates spent the week sailing on Lake Huron and anchoring in Tawas Bay. Holly was asked to go by a friend's mother after another girl was unable to go. Wal Mart sponsored the girls' voyage.
Santamaria said the idea for Sisters Under Sail came about after she and her husband and four daughters began sailing the Unicorn, a 110-foot tall sailing vessel the family bought in 1999. Santamaria said she watched her girls develop a sense of self, take pride in their accomplishments, confidently present themselves, lead on the sports field, and demonstrate tolerance of and compassion towards others. She said much of this was the result of what they learned while crewing on the Unicorn.
"It was through my daughters' experiences that I decided to initiate a leadership program designed exclusively for teenage girls. I wanted to provide other girls the same opportunity to sail a tall ship in a safe learning environment where they could push themselves to try new things they had never done before," Santamaria said.
"I wanted to take young women on a voyage of self-discovery connecting the dots between their shipboard experience and how that experience translates to real-life lessons, making good choices and how those choices pay off in the end."
Holly said each day's activities were designed to connect life on the boat with the girl's real lives. The first day focused on communication, collaboration and cooperation. She and her fellow trainees were given journals to record their experiences which included climbing the mast rigging, line handling, sail theory and navigation, knot tying, engine room checks, and any other duties performed by crew members.
The trainees slept on bunks in a cabin. Holly said this also was a whole new experience.
"Living on a ship is totally different with space being so tight," she said. "The bunks were staggered on top of each other in the ship's bow. It was very hot and cramped, but you just have to make it work."
To keep clean the girls "showered" in the lake, this is known as "Swim Call" in the sailing world.
"We would swim in the lake, hop back on board, shampoo our hair in and go back in," Holly said. "We would shave our legs in a bucket, be on galley duty to clean up after meals, and clean the heads which are what ship's bathrooms are called."
Since its founding in 2005, more than 450 girls from throughout the United States and Canada have sailed on the Unicorn. Santamaria said the program enrolls girls much like her daughters as well as teens who are making those good choices, but need and deserve leadership opportunities and support.
"By design to walk the talk," Santamaria said, "we are the only tall ship in the world that sails with an all-female crew. We want to be good role models, foster empowerment and give young women the chance to see what we women can do together when focused on a common goal."
Holly said being able to see women controlling a boat was very powerful and inspiring. Prior to this sailing adventure Holly said she had been on daytrip sails and was determined to keep an open mind as she prepared for her week on the water.
The skills she has learned through her 14 years in Girl Scouting helped.
"With Girl Scouts I feel like I've been given a lot of opportunities," Holly said. "Girl Scouts has given me the ability to try new things other people would have never thought about and not be afraid.
"Being involved in Girl Scouts is very important to me and has helped me in many, many ways to get me out of my shell and grow into a leader."