About
Girl Scout Week 2017
GSHOM on 02/21/2017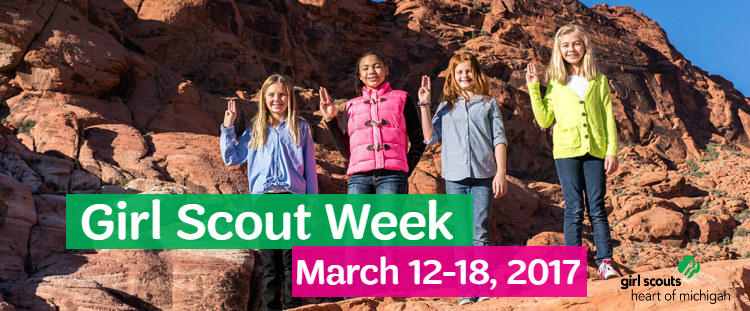 Girl Scout Week is a celebration that we share with our community, friends and families about the joy of being a Girl Scout. Join us in the celebration, and let us know how you're celebrating within your community! You can post your pictures on Facebook, Twitter or Instagram and make sure to tag us! Check out our ideas for how to celebrate each day of Girl Scout week:
Sunday, March 12 – Girl Scout Birthday and Girl Scout Sunday. Celebrate the birthday of Girl Scouts by reaching out to your spiritual leader to be a part of the service. Ask how you can help! Need some ideas? Help usher, take offering, reading scripture or be a greeter. Another great way to celebrate is to attend a service for a religion other than your own.
Monday, March 13 – Invite a friend to your troop meeting or a Girl Scout event.
Tuesday, March 14 – Visit your Girl Scout Regional Center for Girl Scout Tuesdays (EVERY Tuesday) where we're open until 7pm. For Girl Scout week, we'll have a SWAP available in-store for you to make!
Wednesday, March 15 – Wear your Girl Scout gear to school or work.
Thursday, March 16 – Check out the camp guide for fun summer activities. Sing camp songs all day long!
Friday, March 17 – Wear your Girl Scout Green gear.
Saturday, March 18 – Celebrate 100 Years of Girl Scout Cookies by making the original Girl Scout Cookie recipe below:
Original Girl Scout Cookie Recipe
• 1 cup of butter, or substitute
• 1 cup of sugar
• 2 tablespoons of milk
• 2 eggs
• 1 teaspoon of vanilla
• 2 cups of flour
• 2 teaspoons of baking powder
1. Cream butter and sugar; add well-beaten eggs, then milk, flavoring, flour, and baking powder.
2. Refrigerate batter for at least one hour. Roll thin and cut cookies (sprinkle sugar on top).
3. Bake (375°) for approximately 8 to 10 minutes or until the edges begin to brown.
Girl Scout Week Sale - Mar. 13-17: 20% off your purchase! Excludes earned recognitions and troop t-shirts.
* Sale is in-store only and not valid on Troop t-shirts or earned recognition.