About
#GirlsJustWannaCamp Photo Contest!
GSHOM on 05/05/2017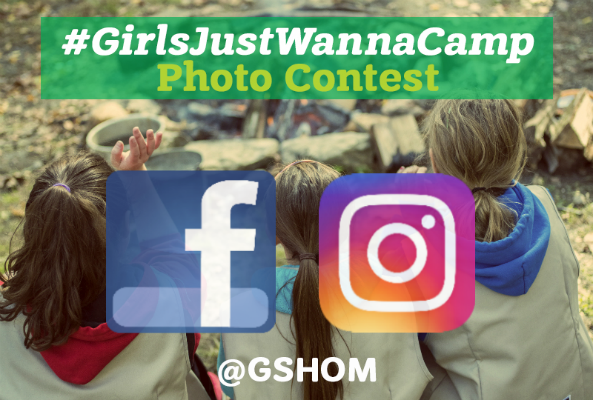 Individual Girls & Troops can enter to win!
We're having our first-ever photo contest and there's plenty of chances for you, or your troop, to win a fun camp prize! Every registered Girl Scout and troop can enter.
There will be ONE troop winner and ONE girl winner.
Here are the official rules:
1. Every girl must have a signed media release form on file with Girl Scouts Heart of Michigan. Not sure if you have one? Give your local regional center a call!
2. Post a photo of yourself showing us how you're preparing for camp, and include your 2017 Girl's Guide to Summer camp guide in the photo!
a. ONE photo entry per girl. ONE photo entry per troop.
b. Likes on shared posts will NOT count. If you're sharing your photo, please be sure to direct users to like the original posted photo.
c. Troop entry: Leader MUST be the one to post the troop's photo.
3. You may post your photo on Facebook and Instagram for more chances to win!
a. This will still count as ONE entry; likes WILL NOT be combined. The photo with the most likes will win, whether that be on Instagram or Facebook.
b. Posting on Facebook? LIKE us at facebook.com/GSHOM.
c. Posting on Instagram? LIKE us @GSHOM.
4. Include the hashtag #GirlsJustWannaCamp, your troop number & area, and let us know if your photo is a Troop Entry or Girl Entry.
The contest will open beginning May 5, 2017 and will close on May 26, 2017 at 11:59 p.m. You may post your photo on any of those days. Of course – the earlier, the better!
There will be ONE troop winner and ONE girl winner.
Winners will be announced on Facebook and Instagram on May 31, 2017!
Got questions?
Contact:
Mariah LeRolland-Wagner, Outdoor Adventure Specialist
mdemkowski@gshom.org or 517-544-7660
Nalee Xiong, Communications Specialist
nxiong@gshom.org or 517-742-4710