About
Celebrating Leadership 2018: Honoring Our Dedicated Volunteers
GSHOM on 05/04/2018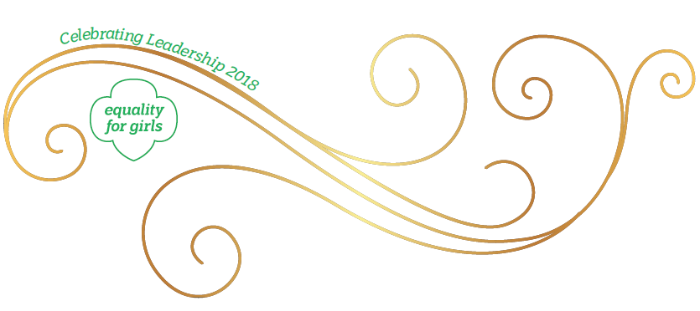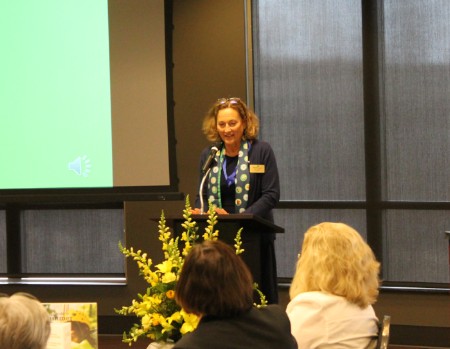 The volunteers we honor are receiving special recognition for helping us continue our mission to build girls of courage, confidence and character who make the world a better place.
Through their guidance and support, our honorees have ensured in one way or another that every girl achieves the 15 Outcomes of the Girl Scout Leadership Experience. As we all know, these outcomes are necessary to developing the skills which will prepare our girls to take a leadership role in their community, their country and their world. The exceptional individuals who we honor have taken what might be a mere definition and shaped it into something lasting and wonderful.
Please take some time to read through and pay special attention to the reasons behind their nominations. You will see how the efforts of our honorees have fulfilled the outcomes such has the development of a strong sense of self, the ability to work as part of a team and advocate for themselves and others, the desire to educate and inspire others to act. Our honorees are clearly the hallmark of our Girl Scout mission.
Today more than ever, girls need to gain the foundation to make a dynamic difference as a leader both now and in the future. Girl Scouting is that foundation and leaders and volunteers, such as the ones we honor today, build this solid infrastructure. On behalf of the thousands of girls and adult volunteers who have benefited from the good works performed by this committed group, I offer my heartfelt thanks and appreciation for going above and beyond.
Yours in Girl Scouting,
Jan Barker, CEO, Girl Scouts Heart of Michigan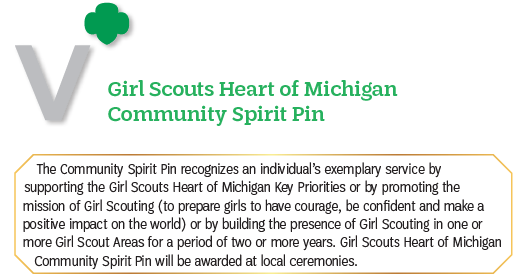 Melanie Achenbach, Lansing
Cheryl Blonde, Lansing
Diana Deese, Midland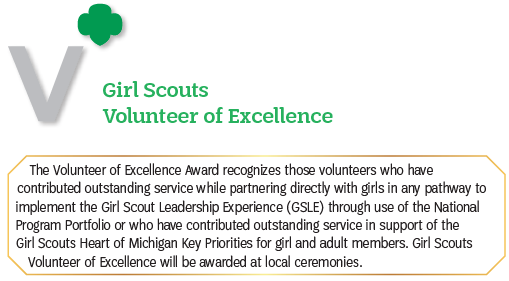 Stephanie Arnold, Saline
Jennifer Benson, Dewitt
Kathleen Brade, Saline
Susan Bower, Ann Arbor
Kellie Childs, Saline
Julie Davenport, Midland
Jill Dougherty, Beaverton
Jennifer Drummer, Saline
Katharine Beach, Ann Arbor
Cecilia Borema, Linwood
Tonya Brush, Parma
Sarah Cantrell, Saline
Amanda Clement, Midland
Paula Dennison, Ithaca
David Hall, Lansing
Mary Ellen Huetteman, Saline
Elizabeth Johnson, Lansing
Rebecca Knepfler, Ann Arbor
Gaynor Meilke, Saline
Melissa Mushrush, Midland
Traci Phillips, Mason
Rob Stolerow, Ann Arbor
Cassie Tennant, Alma
Britain Woodman, Ann Arbor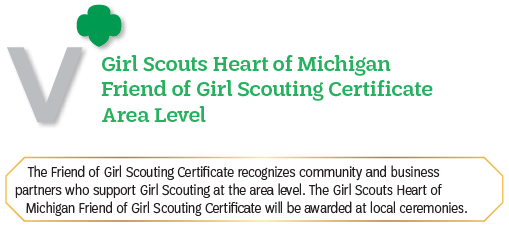 Kim Bails, Holt
Jason DeLille, Mattawan
Delta Fire Station #3, Lansing
Patty Dokum, Holt
First Congregational Church, Bronson
First Presbyterian Church, Sturgis
Mark Jenks, Holt
Katz Well Drilling and Family, Battle Creek
Katie McCoy, Ann Arbor/Ann Arbor Public Schools
Jeff Miller, Holt
Quincy Community Schools, Quincy
Carla Scruggs, Saline/Saline Parks and Recreation
St. Joseph County Grange/Fairground, Centreville
Union Church, Quincy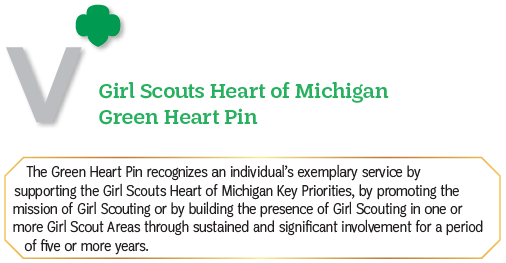 Kristine Cook, Kalamazoo
A Lifetime Girl Scout Member and longtime volunteer in both Girl Scouts Heart of Michigan and legacy council Singing Sands, Kris has always been available to help in any way she can. Kris began her life in Girl Scouts, as many of today's Adult Award recipients have, when her daughter Heather was a Girl Scout as a girl. She was able to see firsthand what being a Girl Scout can do for girls and after her daughter graduated, she continued her service in Branch County. In addition to her volunteering as the product support manager in the county, she is also on the Area Team and keeps all of the volunteers updated on coming events acting as the communications "guru" in the area. Her continued volunteering makes her the engine that keeps the whole team moving, and we look forward to her continued support.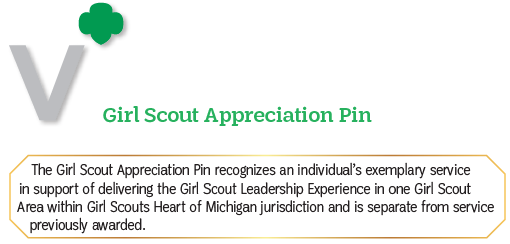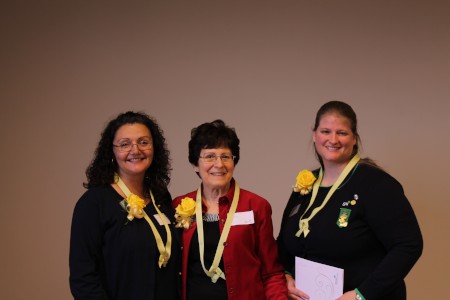 Kathy Dryja, Plymouth
As a Troop Leader, Kathy goes above and beyond to make sure that all girls succeed in anything they do. She promotes being self-sufficient so the girls can learn from their own mistakes, think critically, and ask for help when needed. She works with each girl's strengths and weaknesses and pushes them just enough that they feel successful, without getting frustrated and giving up. As the Troop Organizer, Kathy works to have one troop at each grade level in the school and is available to answer any questions that a leader or parent may have. As an Area Event Coordinator, Kathy assists with encampments, Court of Awards Ceremonies, and World Thinking Day. Kathy's motto is "There is always room for one more", be it girl in a troop or troops in the school, Kathy will make sure it happens.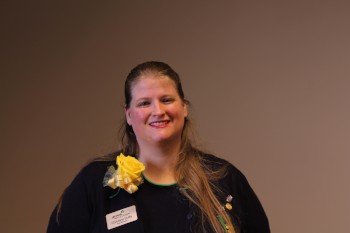 Christine Duffy, Lansing
Christine began her Girl Scout career as a Brownie Girl Scout, rose in the ranks, and earned her Silver Award along the way. She is the Daisy and Junior Girl Scout leader for her daughters' troops as well as the Area Manager for the Waverly area. She makes sure that the girls are involved in the surrounding community in some way and their participation is geared to helping them grow as individuals. She continues to increase and surpass the girl and adult membership goals by reaching out to other school officials in the area to make sure that there is an established relationship with them, and that every girl and adult participating in the Girl Scout Program are currently registered members. She has also created a program development plan to increase the number of events for the area including open houses to encourage new adults and volunteers to become involved in Waverly Girl Scouts. It was shared that Christine is the rock of the Waverly area and is one of the hearts of Michigan.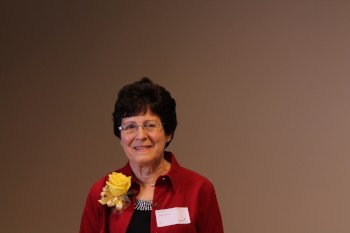 Susan Durling, Lansing
As the Area Registrar for Area 301 (Owosso, Corunna and New Lothrop) for the past 10 years, Sue has really done an outstanding job with girls and leaders alike. Sue is the first person to offer help to new leaders when it comes to registering their troops and keeps accurate membership records after the registrations are in. She attends every monthly meeting and calls each leader prior to each meeting to remind them of the date and time. Sue also sponsors meetings and events by baking up great new recipes and supplying healthy snacks. She connects with the girls by sharing songs, games and sharing her love of nature and the environment with them. Her wealth of knowledge is invaluable to all Girl Scouts. Sue has a true passion for Girl Scouts and she passes it on to all of the members of Area 301.
Mary Kerschke, Mason
Mary has been an instrumental volunteer in the Mason area for the last four years, and has only increased her commitment as time continues. Currently, she is an assistant leader for two troops, Co-Area Program Manager, and co-Area Manager. Mary knows the value and importance of Girl Scouting for older girls, and was key in developing Mason's "Girl Council." An adult advisor was recruited and Mary helped formulate the plan of having 1-2 girl representatives from each troop attend a meeting together. They have a say in planning area events with leaders, practicing their skills in public speaking, planning, and leadership, as well as their confidence.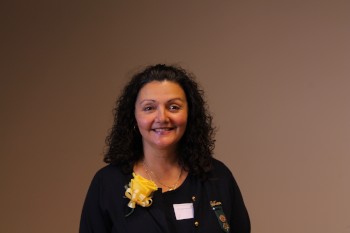 MonaLisa MacLaughlin, Owosso
MonaLisa serves the Owosso/Corunna/New Lothrop area as not only a mentor for girls, but one for adults as well. As Area Treasurer, she meets with all the troop leadership in the area and mentors them through troop finances and encourages them on their own leadership journeys. MonaLisa mentors the girls in her Cadette Girl Scout troop, helping them build skills to be better Girl Scouts, students, and friends. MonaLisa's annual labor of love is coordinating the Girl Scout float in the Owosso Curwood Festival. She recruits girls and their families to help design, build, and walk with a Girl Scout themed float in the Curwood Festival Parade.
Kim Nickel, Charlotte
Kim has frequently been described as a "go-getter." Never one to let a girl or an opportunity fall by the wayside, Kim takes on many roles in the Charlotte/Potterville area, including Area Manager, Area Product Manager for both Treats and Reads and Cookies, Troop Leader for multiple troops, and Program Volunteer (helping with archery at camp, Cheer Off, various 500 Club Honoring Our Dedicated Volunteers 27 Events, and at Source Programs). Kim takes this attitude to her troops too, encouraging them to complete service projects throughout their community. Kim is a wonderful role model for both the girls in her troops and the leaders in her area.
Cole Niewenhuis, Grand Ledge
As a leader for a Girl Scout Junior troop, Cole embodies Girl Led, Cooperative Learning, and Learning by Doing. Her troop has completed service projects at Camp Wacousta and helped with recruitment events for the Grand Ledge area. Cole also takes these processes with her to every adult training she facilitates. She wants leaders to be confident, have a toolkit at their disposal, and be knowledgeable about all the opportunities for girls. She is proud to be a part of the staff-volunteer partnership, always positive and promoting Girl Scouts Heart of Michigan.
Lori Ringle, Saline
In her 13th year as the troop leader for Troop 41193 in Saline, Lori is the Girl Scout mentor of seven 12th grade girls. Lori sees the importance of the troop experience, especially for older girls, and has invited into her troop girls who found themselves "troop-less" for whatever reason. The girls she leads are heavily involved in activities ranging from Marching Band to Varsity Athletics to National Honor Society. Getting them together for meetings can be challenging, but due to Lori's excellent communication skills, everyone is up to date through email and social media, and they plan seasonal activities they know every girl can attend. In this way, Lori is a role model to other leaders in her area, showing them that older girl troops can be as active and successful as younger girl troops.
Grace Rutkowski-Damerow, Lansing
A Lifetime Girl Scout Member, Grace is the leader of a Cadette Troop where she has ensured that these young ladies are active in their school and their community by encouraging them to grow each year as citizens, leaders, and role models for the younger Girl Scout troops in the area. She "stepped up" as the Area Manager and Area Treasurer simply because it needed to be done and she was not willing to let the "ball drop" for the troops in the area. Grace's vision has inspired and empowered the Fowlerville leaders and girls to learn from the best practices she shares with not only her area, but with Girl Scouts Heart of Michigan Area Managers and staff. Grace has taken the meaning of "girl led" to a whole new level by inviting leaders' daughters to attend the monthly leader meetings as well as play an instrumental role in planning out the three major area events.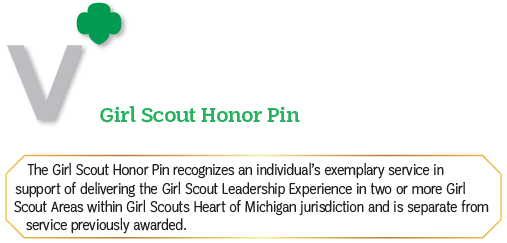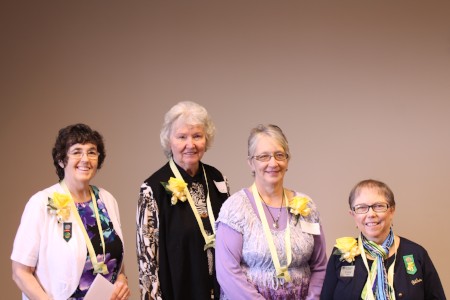 Michele Burton, Mason
Michele has gone above and beyond as a Troop Leader, Area Encampment Chair and Assistant Director of Juliette's Dream Volunteer Day Camp. As an Area Encampment Chair, she led a group of 30 volunteers to give an amazing experience to around 170 Girl Scouts. For Juliette's Dream Volunteer Day Camp, Michele oversees the program aide training. In all her roles, Michele teaches young women life skills and how to make goals that drive their success. She creates a safe atmosphere for failure, making it possible for girls to reach way beyond their comfort zone.
Carol Collins, Ann Arbor
A devoted volunteer for over 16 years, Carol has been an Adult Learning Facilitator and is a Troop Leader. Carol helped bring "Choose Your Own Adventure" a girl-led, interest-based program to all of the Cadette, Senior, and Ambassador girls in Ann Arbor and Ypsilanti (5 areas!). She is committed to mentor girls on planning a trip abroad and sewing service projects. Carol is instrumental in keeping girls safe and informed while they spread their wings. As a facilitator, Carol was unstinting in her donation of time and energy to make sure first aid training was effectively offered and of real value to volunteers.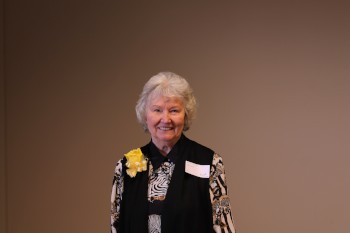 Beverly Hawkins, Corunna
Bev is known as the "Sunshine Lady" in her area. She makes thank you cards for volunteers, businesses and agencies thanking them for their support of Area 301 (Owosso, Corunna and New Lothrop) and Sunny Woods Volunteer Day Camp, and will do the same on behalf of busy leaders in the area. Bev has been an integral part of Sunny Woods Volunteer Day Camp for over 20 years and currently is the craft lady, eagerly helping each girl's creative skills shine. Bev has had an immense impact on day camp and her area because she believes in providing girls and adults with fun and life changing experiences in a safe environment. She is the epitome of the Girl Scout Way with her passion for Girl Scouting.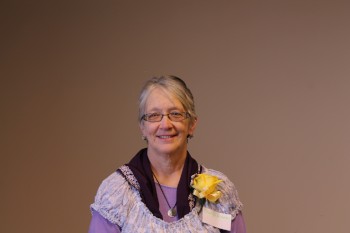 Cheryle Moberley, Vicksburg
Cheryle has been a dynamic Troop Leader for multiple troops from Girl Scout Daisies all the way to Girl Scout Ambassadors. As an experienced Outdoor Skills facilitator, Cheryle has helped hundreds of volunteers to become skilled and comfortable in the outdoors so that they can, in turn, provide outdoor experiences to their girls. When Girl Scouts of Michigan celebrated 100 years of Girl Scouting with "Fab 5" events, Cheryle and her troop volunteered at every event. Cheryle is a strong and positive influence on the All Aboard training weekends and the Kalamazoo facilitator team and has made a positive impact on the Girl Scout movement for over 30 years.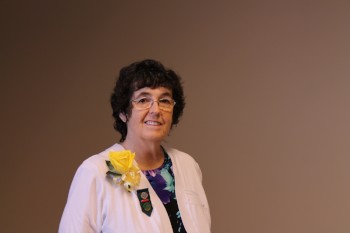 Mia Thelen, Owosso
For the last 24 years, Mia has been a key volunteer for Sunny Woods Volunteer Day Camp, a multi-area camp, in Shiawassee County. Previously, she had been the camp's First Aider, making it her practice to teach the girls
who came to First Aid what she was doing and why. For the last seven years, she has served as the camp's resource person and truly dedicates herself to working on crafts or SWAPS throughout the year. Mia is also actively involved with Area 301 (Owosso, Corunna and New Lothrop) attending area meetings and being a resource to leaders about ceremonies. Mia always has a friendly smile and an encouraging word.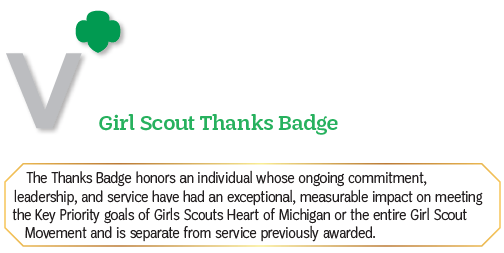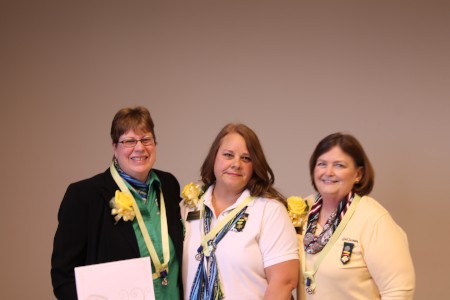 Renee Graham, Vassar
Renee has been actively involved in Girl Scouts for more than ten years at Girl Scouts Heart of Michigan, and many more years at other councils. As a volunteer and former staff member, she brings an acute understanding of the culture of Girls Scouts, serving in several capacities from Troop Leader to Adult Learning Facilitator to Area Manager. Renee supports Girl Scout leaders in training and mentoring, making sure that leaders understand the leadership processes of Girl Led, Learn by Doing, and Cooperative Learning. She applies those processes to her work with girls while teaching about Product Program, mentoring Leader Feeders, and advising them through Gold Award projects. She has a special gift in helping others to find the good in any person or situation, no matter how challenging. Renee lives the life of Girl Scouts, attends Girl Scout National Conventions, actively participates in training weekends, and is always prepared to step up when needed. If it is Girl Scouts, Renee is on it!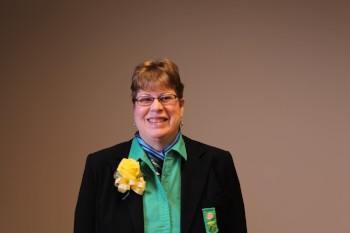 Wendy Kropp, Battle Creek
Wendy's role in Girl Scouts Heart of Michigan has evolved over many years. She became engaged as a Troop Leader for her daughter's troop and she led that troop through graduation. She was (and still is) a true and direct advocate of the Girl Scout Leadership Experience, taking great care to provide her girls with fun and life-changing experiences, where they learn to lead, live courageously, and take action in their communities. Along the way, Wendy mentored four Gold Award recipients. As she gained experience, she wanted to share her passion and knowledge for Girl Scouts and youth development, and she purposefully did so by joining the Calhoun County Area Management Team and the Adult Learning Facilitator Team. She continues to serve as a Volunteer/Troop Mentor, and as an Adult Learning Facilitator and for 15 years, she has taught hundreds of courses from basic skills to enrichment classes. Wendy's commitment is strong, and her dedication is without limit.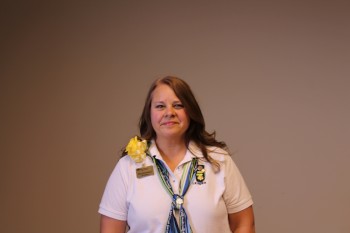 Rosemary McMullen, Kalamazoo
Since 2006, Rosemary McMullen has proven to be a dedicated Girl Scout volunteer. She has demonstrated exceptional commitment, leadership, and service, resulting in outcomes that have benefited the entirety of Girl Scouts Heart of Michigan. Rosemary has acted in every capacity imaginable in the Girl Scout realm, and is the living embodiment of integrity, honesty, and responsibility. Rosemary's many roles over the years have included Troop Leader, Adult Learning Facilitator, Area Manager, Area Product Manager, member of various committees, and more. Rosemary has been described as "a true leader," "driven to succeed," and a "dedicated volunteer." Her fellow facilitators are always eager to work with her, and all have high regard for her skills and abilities. Rosemary is the example that everyone wants to live up to as a Girl Scout.
Debbi Thomas, Rose City
For nearly 40 years, Lifetime Girl Scout Debbi Thomas has played a role in bringing Girl Scouts to thousands of girls and adults, primarily in the rural Rose City area of Ogemaw County. Her list of achievements and accomplishments as a volunteer is long, and includes: Troop Leader, Area Manager, Troop Organizer, Area Product Manager, Honor Guard Adult Volunteer, Adult Learning Facilitator, and so much more. She currently is a member of the Member Advisory Committee. Debbi has attended Girl Scout National Conventions, conferences at Macy Conference Center, and more. Living in a socio-economically challenged area, Debbi has been especially adept at securing opportunities for all girls who want to be Girl Scouts, regardless of their situation. She is also a traveler, making sure that girls know that there is Girl Scouting outside of Michigan. As a role model and mentor, Debbi brings a level of sustained commitment and experience that is hard to equal.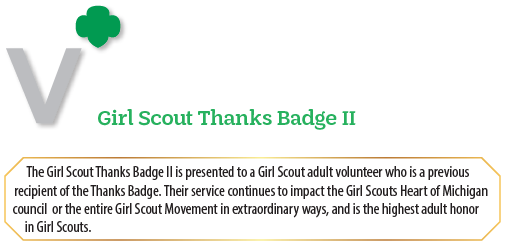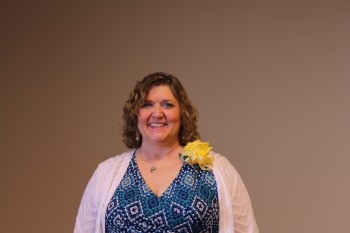 Joanne Paddock, Howell
Since receiving the Thanks Badge in 2011, Joanne has continued her dedicated and outstanding service to Girl Scouts Heart of Michigan. Joanne has become one of the lead organizers of Girl Scouts Heart of Michigan's adult training and girl/adult training weekends (All Aboard and the G.I.R.L. Summit, respectively). This involves months of reflection, planning, and communication with staff and volunteers detailing the coordination of logistics: scheduling, rescheduling, recruiting, marketing, supplies, and all-around management of presenting a two-and-a-half day event. These events are attended by dozens of Girl Scout Leaders as well as girls, providing them with the new and familiar experiences of sisterhood, education, and fun. She is calm, warm, and welcoming of new ideas. Joanne is able to take on this role because with over 50 years in Girl Scouting, she is well-versed in Girl Scout history, lore, traditions, principles, keys and processes, and the mission. Joanne is also adept at this planning because of her love of helping new and experienced leaders gain knowledge and appreciation of all that Girl Scouting offer. In addition to All Aboard and the G.I.R.L. Summit, Joanne was instrumental in creating a new method of offering Outdoor Skills training called "Troop Camp Plus." Troop Camp Plus is a program and education method that epitomizes the three process (Girl Led, Learn by Doing, and Cooperative Learning), and is a model being used in the development of new programs and educational opportunities. Joanne has made a huge impacted hundreds of adult volunteers who were lucky enough to be participants in classes she has facilitated. Does she bleed green? Absolutely!