About
Troop 30226 of Dewitt Earns Junior Bronze Award
Adolie (Girl Scout) on 05/04/2018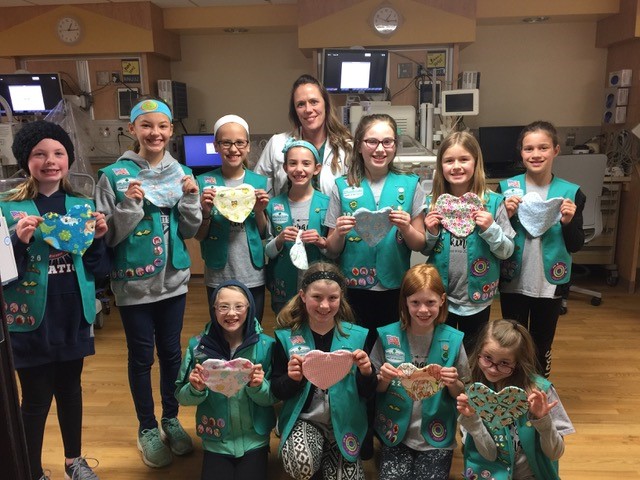 Dewitt Girl Scout Troop 30226 has earned the Bronze Award, which is the highest award that one can achieve in the level of Junior Scouts. To earn this award, the troop each came up with ideas, presented these at a meeting and then voted on how to help their community. The winning idea was to support the Ronald McDonald House and babies in the Neonatal Intensive Care Unit (NICU).
The 11 fourth-graders at Scott Elementary School spent more than 20 hours making more than 100 busy bags and calming bags for the families and sewing 239 flannel hearts to help parents bond with their babies in Sparrow Hospital's Neonatal Intensive Care Unit.
The troop put together activity bags for the children of the families who were staying at the Ronald McDonald house. They made bags for toddlers, preschoolers, kindergarteners and 1st and 2nd graders. The bags had activities that each of the girls designed and were to help keep the kids busy and occupied while their parents were visiting their loved ones in the hospital. This was especially important because no one under 18 years of age is allowed in the NICU to keep down the spread of germs.
The Troop also made Calming Bags for parents and kids. These had activities such as Sudoku, coloring pages and word searches that the adults or children could do when they were feeling overwhelmed or needed a break. The Girl Scouts also cut and sewed flannel hearts. The hearts are placed against the mom's or dad's skin and then placed in the incubator or bassinet with the baby to help keep the baby calm and feel secure.
After the bags and hearts were created, the Troop went to visit the hospital and dropped off the flannel hearts and learned more about the NICU and what the babies might be experiencing. The girls learned that they had created enough flannel hearts to last the hospital for two years! Afterwards they went to the Ronald McDonald house to drop off the bags. While they were there the girls provided tutorials on how the bags were created and sorted and got a group photo with their bags. Ronald McDonald House and the hospital were overjoyed to receive these gifts and commended the girls on a job well done.
Overall, the girls identified this as a very meaningful community experience because they were helping not only the babies but kids and their parents by providing them activities to keep their mind off of a stressful situation and more importantly new ways to bond with each other.
The troop thanks the many community members, family and friends who donated flannel and time to help sew the hearts. The troop includes Frankie Clone, Claire Cramton, Adolie Holt, Aubrey Howe, Anabelle Kahl, Sylvia Keckeisen, Ava Kujansuu, Sophie Messina, Emma Smith, Maddy Takagishi, and Madeline Torrence.