About
Leader Feeders and Facilitators in Training
The Leader Feeder and Girl Facilitator programs are two great leadership opportunities for Girl Scout Cadette, Senior and Ambassadors. Both offer two weekends at camp. The first weekend is in September 2018 for training and the other in October 2018 for utilizing and implementing new skills.
For more information, please refer to applications below.
---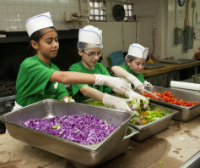 Leader Feeders
Cadette, Senior and Ambassador Girl Scouts can give service to Girl Scouts Heart of Michigan volunteers and increase their leadership skills by "feeding" participants who attend two event weekends. These events consist of fall volunteer training weekends at Camp Linden (October 26-27, 2018) and at Camp Merrie Woode (November 2-4, 2018).
The Leader Feeders will be serving approximately 100-125 participants per meal. The skills the girls will be learning and using can be counted towards a variety of recognition - one being the Service to Girl Scouting Award.
---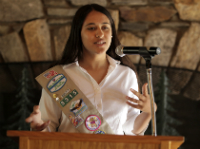 Facilitators in Training
Cadette, Senior and Ambassador Girl Scouts wishing to increase their confidence in leading, learning new skills and assisting in training girls and leaders are encouraged to join us for this amazing opportunity. There will be a Girl Facilitator training weekend on September 14-16, 2018 at Camp Linden.
Girls will have a chance to practice these new skills and roles at The Summit (where girls and adults learn together) at Camp Linden on October 26-28, 2018.
---
Applications for both programs are due no later than July 9, 2018. Send applications to education@gshom.org or fax 734-714-3037.