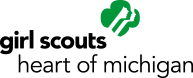 Bring your family closer together and closer to nature in our newest camp addition!
Explore more than 200 acres filled with hiking and running trails and wildlife, or simply kick back and relax on our sandy beach on Long Lake. Enjoy fishing, swimming, canoeing, or bring your own boat and enjoy other water activities!
Since Deer Trails Family Camp is only available to registered Girl Scouts, and their guests, you can enjoy all of the outdoors with none of the crowds, in a family-friendly environment! If you're not a Girl Scout yet, it's no problem! It's easy for girls and adults to join and attend camp this summer.
Please visit the Deer Trails Family Camp Reservations page to save your place today.
Directions
FAQS
How do I make a reservation?
Camp Deer Trails is reserved exclusively for families of current Girl Scouts, active Girl Scout volunteers, and their accompanied guests. In order to make a reservation, you must be a parent or guardian of a registered Girl Scout, an active Girl Scout volunteer, or an active Girl Scout staff member.
How does my guest reserve a site or cabin?
If you are planning on bringing another family to camp with you as guests, they can reserve a site if you plan to accompany them during their stay. The guest can enter your name in the "Name of Registered Girl Scout or Volunteer" and we will confirm the registration.
Should I bring my own linens and towels?
Please plan to bring bedding (sleeping bags or linens), bathing towels, and dish towels.
How do I check in to camp?
Check-in time is 1:00 PM on the first day of the reservation. All guests are asked to check in at the camp Welcome Center, located in Salt Lick Lodge. In the event guests arrive when the Welcome Center is not open, guests are asked to complete the self-registration process posted outside of the Welcome Center.
How do I check out of camp?
Check-out time is 1:00 PM on the last day of the reservation. In order to keep costs low and in keeping with Girl Scout tradition, guests are asked to leave their cabin or campsite better than they found it.
Is there a lifeguard on duty?
Our sandy swimming beach is open to families for their use, but there is no lifeguard on duty and guests must sign a waiver to use our swimming and boating areas.
May I bring my own boat?
Boats are available for rent at our Welcome Center. In addition, guests are welcomed to put their boat in at the public boat launch located to the north of camp, and keep their boat docked at camp during their stay.
Are pets allowed?
Pets are welcomed to stay in campsites only (not in cabins). Please keep pets on a leash no longer than 6 feet. Owners are asked to keep their pet under control at all times, not leave their pets unattended, and to clean up after their pets.
What is your alcohol policy?
Camp Deer Trails is a family campground, and we ask guests to use alcohol in a responsible manner at their designated cabin or campsite only. Alcohol is not permitted at the beach, the Salt Lick Lodge, pavilion areas, or any other public area.
Can I bring fireworks?
Fireworks are not allowed at camp, so please feel free to leave them at home.
Do you allow hunting or firearms?
Hunting is not allowed, and guests are asked to leave their firearms at home.
Can I park at my campsite?
For everyone's safety, please limit the use of your vehicle while at camp, and park only in designated areas. There is ample parking for one vehicle at each campsite or cabin. Overflow parking is located in the parking lot near Salt Lick Lodge and elsewhere around camp. Parking for the swimming and boating areas is located near Salt Lick Lodge.
Can I bring my camper?
Currently we do not have sites ready for campers, but we are making several improvements this year that will allow this in the future.
How do you handle garbage?
There is a dumpster in camp for your convenience. Please drop off your trash on your way out of camp. Trash bags are available at the welcome center and at the cabins for your convenience.
I need to cancel my reservation. Do I get a refund?
If you cannot keep your reservation, please call us at (800)-49-SCOUT to reschedule and avoid a cancellation fee! Reservations may be cancelled greater than 30 days in advance with no penalty. If a cancellation is made less than 30 days in advance of a reservation, there is a 50% cancellation charge. Cancellations made fewer than 7 days in advance are subject to a 100% cancellation charge.
Can I get a refund for severe weather?
Girl Scouts Heart of Michigan cannot be held responsible for the weather and cannot offer refunds for inclimate weather.
Are there planned activities for my children?
Camp Deer Trails is a family campground, and so families are on their own to plan activities tailored to their family's interests. There are several things to do, such as boat rentals, swimming and hiking. Salt Lick Lodge also has games available to use at no charge.
Is there a minimum number of nights required to reserve a cabin or site?
During the busy summer camping season, we ask that weekend cabin bookings include both Friday and Saturday evenings. There is no tent site restriction, or a restriction for booking cabins, on other evenings.
Rates
Rates vary per site, so please visit our Deer Trails Family Camp Reservations page for a full list.