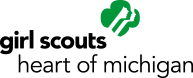 Girl Scout troop camp gives troops the opportunity to come to overnight camp together as a troop without needing to attend any additional training.
Meals and programming are provided at troop camp, and is for girls entering grades 1-12 in the fall.
In order to accommodate your busy summer schedule, overnight camps are available in 3, 4, or 5 day sessions.
| Sun | Mon | Tue | Wed | Thu | Fri | Sat |
| --- | --- | --- | --- | --- | --- | --- |
| 1 | 2 | 3 | 4 | 5 | 6 | 7 |
| 8 | 9 | 10 | 11 | 12 | 13 | 14 |
| 15 | 16 | 17 | 18 | 19 | 20 | 21 |
| 22 | 23 | 24 | 25 | 26 | 27 | 28 |
| 29 | 30 | 1 | 2 | 3 | 4 | 5 |
About
Camp Staff
Our staff is hired on the basis of values, passion, skills, and a genuine love for children. Our unique and careful interview process allows us to identify candidates who have the intelligence, compassion, skills and motivation to be a successful Girl Scouts Heart of Michigan staff member. All candidates are interviewed by one or more of our camp directors. We also do reference and background checks for all potential staff members.
Every staff member, whether new or returning, arrives at camp early and has an extensive training period before your daughter arrives that includes CPR and First Aid certification. We use varied training techniques to provide our staff with the insights and tools that enable them to properly care for your daughter and offer a fun-filled session.
Interested in working at Girl Scout camp? It's a pretty cool job, an awesome thing to do over the summer—and it looks pretty great on a resume. From counselors to cooks, we're always looking for wonderful role models for girls to work at our camps. Interested? Yay! Visit our Careers page to get started. 
Safety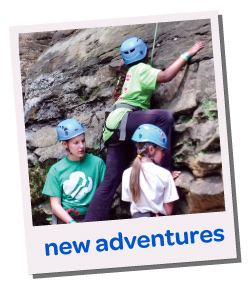 Safety is at the forefront of every camp and we take the responsibility very seriously. From the ongoing construction of our new cabins to the repairs of exciting ones, all of our work is performed by qualified professionals who understand the responsibility we have in taking care of your daughter. Hand in hand with the Michigan State Department of Health and our local building code officer, Girl Scouts Heart of Michigan assures that the facilities are ready and safe year-round.
Our buildings all have smoke and carbon monoxide detectors which we inspect annually, and our camp directors and staff closely monitor the weather.
Our staff is trained to carry out emergency procedures in the event of severe weather. As such, certain camp activities may be cancelled or postponed to ensure the safety of our campers and staff.
All of our camps staff is CPR and First Aid certified and receives training and certification for the activities they guide and supervise.
Trading Post | Camp Shop
Save time later by depositing your camper's Trading Post money when you sign up for camp. If now's not a good time, no worries—you'll still be able to deposit money at check-in.
Activities
Girl Scout camp offers expert instruction, beautiful scenery, and enthusiasm from our staff that provides a great backdrop for our campers to explore their interests and develop their skills. When our campers first start at Girl Scout camp, we encourage them to try everything and to explore new activities.
Most importantly, all of our staff makes sure to bring out the best in our campers all while making it fun. This allows our campers to broaden their interests, develop great life-skills, and friendships that will last them a lifetime.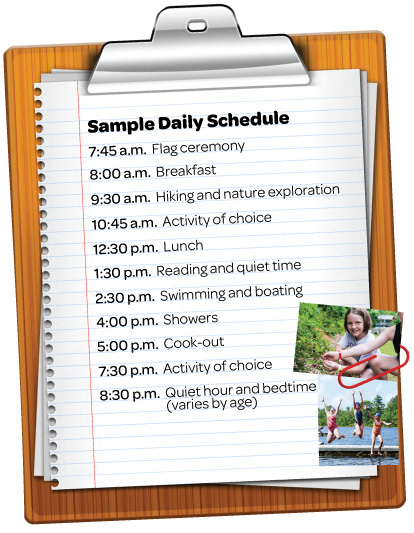 Archery
Our experienced staff will help your daughter learn how to have a safe and fun time on the archery range. Archery is available from April 1 to October 31 for girls in grades 2 and up.
Arts and Crafts
Everyone's an artist at camp! She'll use her imagination to create a masterpiece that she can take home. Our trained staff will provide direction and introduce new techniques.
Boating
She and her friends will work as a team to explore beautiful Warner Lake using a paddle boat, row boat, or canoe with the assistance of our certified staff. Boating is available from May 1 to September 30.
&nbsp
Climbing Wall
Your daughter will scale to new heights as she makes it to the top of our 30-foot climbing wall. Our certified climbing staff will be there to guide her and help her improve her skills during her stay. Climbing is available from April 1 to October 31 for girls in 4th grade and up.
Horseback Riding
She'll meet our friendly horses and learn basic or advanced skills based on her previous riding experience. Riding lessons are available from May 15 to September 30 for girls in grades 2 and up.
Nature
Your daughter can hike and explore the forest as she looks for animal tracks, listens for bird calls, smells the pines, works her muscles and has a ton of fun with her friends!
Outdoor Cooking
Food is always more delicious when it is cooked over a fire! She'll learn new recipes and cooking techniques she can use on her next camping adventure.
Science
Science has never been more fun! Your daughter will earn about non-Newtonian fluids as she creates the wonder that is "oobleck" and more fun activities designed to fill her mind with knowledge—all while having fun!
Swimming
Camp Merrie Woode's waterfront has swimming areas for all abilities. Our certified staff will work with your daughter to determine her level of swimming ability, help her build confidence in the water, and of course, have lots of fun!
FAQS
General Questions
Q: What is the dress code at camp?
Girls are encouraged to wear comfortable clothing (that they do not mind getting dirty) and comfortable athletic shoes. Many girls like to wear Girl Scout t-shirts and apparel to camp, and we offer a large selection of camping supplies and clothing at our Camp Trading Post and Girl Scout regional centers.
Sandals are allowed as long as they have a heel strap; flip flops are not permitted except as shower shoes. We like to play outside rain or shine so please check the weather when packing for camp.
Q. Where are most campers from?
Most of our campers are current Girl Scouts from one of the regions served by Girl Scouts Heart of Michigan. However, we have a number of Girl Scouts from other councils and new or non-Girl Scouts who attend our camps because of the range of program offerings and affordable rates.
Q. Where are most of the staff from?
Most of our staff are from the same areas as our campers, and in fact, many are former Girl Scouts.
Q. Food, tell me about the food!
All of the food served at Girl Scout camp is healthy and kid-friendly. Our dining hall staff takes great pride in the variety and quality of the meals offered. In the event there is a special dietary issue, the directors are always available to discuss this with the parents and make every effort to accommodate the child. Note: Please be sure to include any dietary restrictions or allergies on your daughter's paperwork and notify the camp director at least two weeks prior to your session start date so we can make the necessary adjustments to our menu.
Q. Hey, I have other questions, what if my question isn't listed here?!?
As a catch-all answer to any question not listed…Yes, we have bugs (but not too many), water fights, silly races, crazy competitions, games, songs, s'mores, popsicles, ice cream, skies filled with more stars than you can imagine and just about every other thing that makes camp…CAMP.
If you have a question we didn't answer, let us know! We're always happy to hear from you and happy to help. Email Stephanie Hall the camp director.
Overnight/Day Camp FAQ's
Q. I'm going to miss her so much! Can I call my daughter at camp?
We want your daughter to be able to focus on her experience at camp, so as a general rule we do not encourage campers to call home. However, if your daughter is struggling during her time at camp, her counselor will notify the camp director so that we can make arrangements for a phone call.
You can also let your daughter know that you're thinking of her by leaving prewritten letters for her at check-in, emailing her at Camp Merrie Woode, or mailing letters to her.
Q. Sooo…what's the bathroom situation?
Bathrooms, or latrines, are available near all program areas, lodges, or tent units.
Q. How are medications administered at camp?
To ensure all campers' safety, all medications—both prescription and over the counter will be administered by the camp health officer.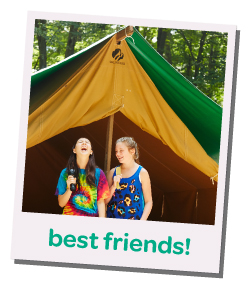 Q. Can my child pick her bunkmate?
Girl Scouts Heart of Michigan takes great care in making accommodation assignments. Our priority is to make bunks that work for each camper and the group as a whole. Your daughter can request a buddy at camp and the camp director will try to accommodate such requests.
Q. We live in a digital world. Why can't my daughter bring her cell phone, tablet, mp3 player, or e-reader?
We love technology too! We also know how healthful it is for children to "unplug" and experience nature at camp. Plus, there are so many fun activities at camp, there's really little time to spend on mobile devices.
Any electronics (including cell phones that take photos) brought to camp will be collected at check-in and returned to your daughter upon check-out. Campers who wish to take photos at camp are welcome to bring a digital or disposable camera.
Outdoor Event FAQ's
Q. When does registration close?
Registration closes 3 weeks prior to the event date.
Q. What training do I need to attend an outdoor event?
During scheduled events our staff serves as your outdoor-trained adults and First Aiders. However, we do recommend that an adult in your troop participates in outdoor training.
Q. How are medications handled for outdoor events at camp?
All medications—both prescription and over the counter, need to be locked up for the safety of the girls. You can pick from the following options. You can turn in your medications at check-in and camp staff will administer them when needed. You can lock the medications up yourself in a lock-box or car.
Outdoor Adventure Menu FAQ's
Q. How can I request an Outdoor Adventure Menu program?
You can make a program request online by visiting the Camp Merrie Woode Reservations page.
Q. How far in advance do requests need to be made?
Requests need to be made at least 3 weeks before you are planning to visit camp.
Q. When can I expect to hear back about my program request?
You can expect a response within 10 days of submitting your request.
Q. When is payment for the program request due?
Payment is due within one week of you being contacted for payment. If payment is not received within this time, your program will be cancelled.
Rental FAQ's
Q. How can I rent a lodge/tent at camp?
You can make your reservation online by visiting the Camp Merrie Woode Reservations page.
Q. What training do I need to take my girls camping?
You will need an adult who is trained in First Aid. You will also need an adult who has Outdoor Skills 1, for camping in lodges, and Outdoor Skills 2, for tent camping and outdoor cooking. Troop Camp Plus is a great way to get this Outdoor Skills training.
Facilities
Each session description includes an accommodations assignment. Tents are soft or hard-sided, sleep four campers, and do not have electricity. Lodges sleep 8-20 campers and do have electricity. Camp directors may adjust accommodations if necessary
Lodges | Lodges have bunk beds, can sleep 8-20 people, and have electricity.
Tents | Tents units are platform tents with a wood base and soft-sided walls and ceiling. Each tent has four beds with mosquito nets.
Red Roof | This is the main bathhouse at Merrie Woode, which includes bathrooms and showers.
More information about individual units is located on our reservations page.
Rates
Thanks to the generosity of our donors, we're able to set affordable pricing for all of our camps. Looking to donate? Visit our camp donation page for more information.
Camp Tuition Includes
Lodging in a tent, lodge, or cabin unit.*
Healthy and kid-friendly meals and snacks.
All activities described in your session's description, including trips and excursions (if applicable).
Art supplies and sporting equipment (unless otherwise noted).
Three and Five Year Camper Pins (if applicable)*
Fun, adventure, friendship…and lifelong memories!
*Overnight Camp only
How to Register
Complete your registration online using Ebiz, our online registration site, or fill in the appropriate Overnight Camp Registration Form or Day Camp Registration Form.
Paper registrations may be mailed, faxed, emailed, or delivered to any Girl Scouts Heart of Michigan regional centers. Your $50 deposit ($25 non-refundable) must be included with your registration.
What's next?
Within two weeks of processing your registration, we'll send you an invoice confirming your placement that includes a Balance Due Summary. You may pay your balance with Cookie Cash, a Girl Scouts Heart of Michigan gift card, cash, check or credit card.
Important! We don't want you to miss out on camp, so be sure to pay your balance in full, or make payment arrangements, at least two weeks (three weeks for travel camps) prior to your session's start date to avoid cancellation of your registration.
Campdoc.com
Now you can complete all of your camp paperwork online—once. About seven to ten days after signing up, you'll receive an email from CampDoc with a link. Follow the link, fill out your forms, and you're all set. Feel free to login again anytime to update your forms, find welcome letters, packing lists, and more. If you do not have Internet access, please call us at 800-49-SCOUT for assistance.
Bring a Buddy to Overnight Camp
Simply request your buddy on your Overnight Camp Registration Form and ask your buddy to do the same. Note: You must register for the same session. Every effort is made to place buddies together. The camp director will make the final decision on camper placements.
How to Request Financial Assistance
Return a completed Financial Assistance Request Form with your Overnight Camp or Day Camp Registration Form and $50 deposit ($25 non-refundable). Assistance is awarded based on need, and you will be notified within two weeks of your application being processed.
Participate in the Girl Scout Cookie Program
The Girl Scout Cookie Program helps girls learn goal setting, decision making, money management, people skills, and business ethics; but did you know that it can also help send you to camp?
Cookie Cash earned through selling cookies can be used for camp, program events, shop merchandise, membership dues, and approved Girl Scout Silver and Gold Award projects.
Overnight Camp Refund Policy
Our hope is always that you find a session or two…or three that works. However, we understand that life happens, so we're able to issue a partial refund for the circumstances outlined below.
If you are not selected for the camp program of your first or second choice.  —OR— When a program is cancelled due to insufficient enrollment and you cannot be placed in your second choice program.
Refund minus $25 non-refundable fee issued only:
For cancellations received in writing at least four weeks prior to the first day of a registered camper's session.  —OR— If a camper cannot attend camp due to a medical reason, camp must be notified by the first day of her session, and a written notice from her doctor is provided within two weeks (three weeks for travel sessions) of her camp session.
50 percent refund issued only:
For cancellations received in writing at least two weeks prior to the first day of a registered camper's session. —OR— If there is a family emergency and we are unable to schedule another session.