Events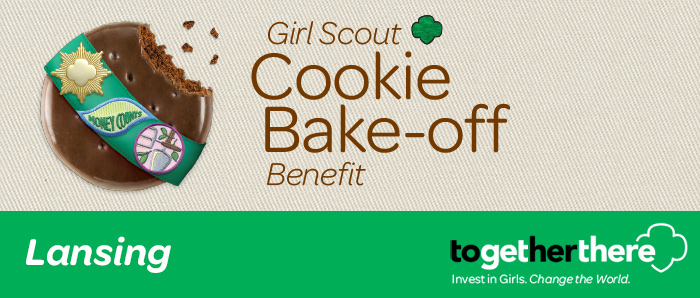 Join us April 19, 2018 at the Greater Lansing Association of Realtors, 4039 Legacy Parkway, Lansing, MI 48911, for an evening of decadent desserts created with Girl Scout Cookies by local chefs! This event supports Girl Scout outreach to low-income and at-risk girls in your community.
To learn about sponsorship, download our Bake-off Sponsor Packet.
Buy Tickets Now: $45 or $325 for a table of eight.
---
Our 2018 Winners!
1st Place: Sweet Encounter Bakery - Toffee-tastic Chocolate Caramel Cake
2nd Place: Old Nation Brewing Company - Samoan Coconut Fried Shrimp 
3rd Place: Menchie's Frozen Yogurt - Fromosa, Fromint and PB S'mores
Most Creative: Center of the Plate Catering  - Peanut Butter Mousse S'mores Cake
People's Choice (WE HAVE A TIE!): Sugar Shack - Beanut Putter
Bake N' Cakes - Chocolate Mint Magic
---
Thank You to Our Sponsors:
Capital Steel & Wire
Case Credit Union 
Culligan Water Conditioning of Lansing
Dean Transportation
Emergent Bio Solutions
Express Employment Professionals
Feldman Chevrolet of Lansing
Foster Swift Collins & Smith
Jackson National Life
Jason VanSickle
Lafontaine Automotive Group
Lansing Community College
Lansing Urgent Care
Marco's Pizza
Meijer Grand Ledge
Modern Woodmen
MSUFCU
MSU Office for Inclusion
Otten Trophy
Paramount Coffee Company
Potter Park Zoo
Portland Federal Credit Union
Robert W. Jansen D.D.S. & Associates, P.C.
Townsquare Media
Uno Deuce Multimedia
Wells Fargo, Staff - East Lansing
Participating Chefs and Restaurants:
Menchie's Frozen Yogurt, Larissa Martins
Medilodge of Okemos, Todd Densborn & Zhaawosh Bardy
Lansing Brewing Company, Mo Hudson & Mike Allor
Old Nation Brewing Company, Camilla Fritts, Scott Turner & Dain Rykman
Bake N Cakes, Haleigh Mason & Mara Burley
Sugar Shack, Darek Makhoul
Center of the Plate Catering, Rachelle White
Sweet Encounter Bakery, Nikki Thompson Frazier
Judges:
Josh Arendsen, Lansing Lugnuts
Dr. Breanna Lynn O'Keefe
Bill McLeod, CASE Credit Union
Joe Rodriguez, Feldman Chevrolet 
Kelly Preston, Capital Steel and Wire
Vanessa Schafer, Old Town Commercial Association 
Emcee:  
McConnell "Large" Adams, Brand Manager, Townsquare Media Lansing and Mornings on 97.5 Now FM
Auctioneer:
Tim Bos