Events
Supporting Inclusiveness in Girl Scouts
Wednesday, November 16, 2016 6:00 pm - Friday, November 18, 2016 12:00 pm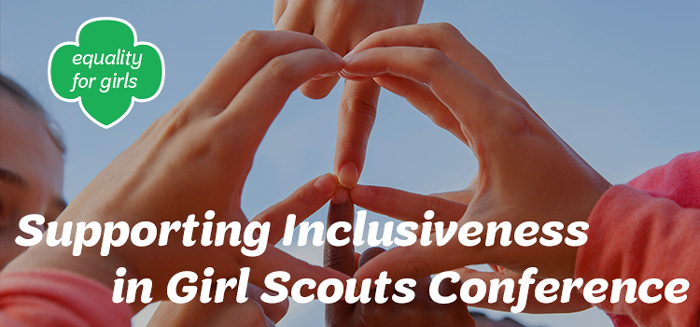 Location:
Ann Arbor Marriott Ypsilanti at Eagle Crest, 1275 S Huron Street, Ypsilanti, MI 48197
Description:
Girl Scouts Heart of Michigan is excited to share the perspective of local experts as we network with our sister Girl Scout council leadership to build the resources councils desperately need. Supporting Inclusiveness in Girl Scouts is a three-day (first day is an optional evening reception) conference for Girl Scout council leadership and staff that will springboard the development of these resources. The conference will be held in Ypsilanti, Michigan on November 16-18, 2016.

Cost:
The $300 conference fee includes conference space, workshop costs, and meals (breakfast, lunch and dinner on Thursday and breakfast on Friday). This fee does not include lodging. Participants are responsible for booking and paying for their own hotel rooms. A block of rooms has been set aside for us at the hotel at a special rate. Reservations can be made by contacting the hotel directly at 1-800-228-9290 or 1-877-757-7133 and referring to the Girl Scouts Heart of Michigan room block or by booking online here. Participants will need to call and reserve a room by October 24, 2016 in order to guarantee availability. Rates for Standard Single are $129 + applicable state and local taxes.

Cancellations:
If you find that you must cancel, please call Lesley Lankerd at 1-800-49-SCOUT. Cancellations made prior to November 2, will be refunded at 75%. Cancellations made after November 2, will not be accepted. Remember: Conference fees DO NOT include hotel expenses. You are responsible for canceling hotel reservations in the event you are unable to attend.


Wednesday, November 16
Below is the general schedule for the conference; times are approximate and sessions are subject to change.
Evening social at Bona Sera Restaurant in Ypsilanti


Thursday, November 17

Welcome
Jan Barker, CEO, Girl Scouts Heart of Michigan

Plenary Session
Introduction to Inclusiveness and Inclusive Language, facilitated by Sojn Boothroyd

Keynote Speaker
Keynote: Diane Schroer, nationally recognized as a pioneer in transgender issues.

Breakout sessions (including, but not limited to)
Supporting Inclusion in the Troop Setting: This session will cover topics that include communicating with parents and ensuring girl safety.

Facilities Updating: Learn about options for upgrading your facilities to ensure girl safety and privacy. We'll look at some examples and ideas for retrofitting shower and bathroom facilities that are affordable and meet the needs of all Girl Scouts and their friends and families.

My Voice Panel
Spectrum Center, University of Michigan
The primary goal of the My Voice Program is to provide panels of trained LGBTQA+ speakers to share their personal stories with audiences. Our My Voice panels, the oldest and most popular of our educational programs, provide information about LGBTQ+ issues with a personal touch. These panelists help "put a face" on LGBTQ+ communities and experiences and facilitate vibrant discussions about topics of attractionality, sexuality and gender.

We believe that storytelling is one of the most powerful tools for educating audiences on identity, oppression, and allyhood because it offers in-depth, complex, and compelling narratives on these concepts.

Beyond the traditional "coming out" stories, our My Voice panelists are trained to speak to their life experiences through the lens of their own multiple intersecting identities.

Evening social with cash bar


Friday, November 18

Working Together
Each council will participate in a facilitated session with time to address next steps and start their own implementation plan.

Closing
Jan Barker, CEO, Girl Scouts Heart of Michigan