Events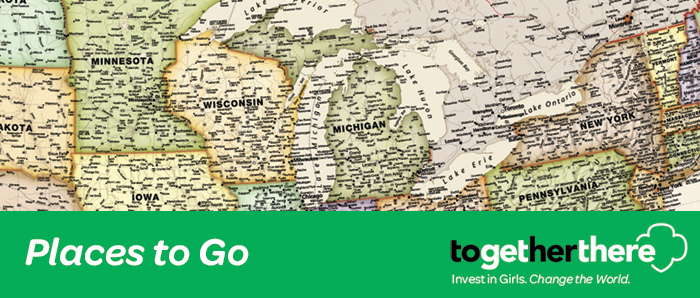 Are you ready for fun?
Generous sponsors from across the state of Michigan invite you, your troop, and your family to enjoy the activities they offer. When you visit, be sure to thank them for their support and let them know you found them on "Places to Go."
Hey sponsors and business owners! Wanna see your place or event listed here?
Fill out this form to get started.
Welcome to the world of theatre! We come to you to teach singing, dancing, and acting. As a group, we'll write an original play to be performed at the end of the last session. Designed for students with special needs and/or the typically developing, we'll meet your theatre level!

(Daisy, Brownie, Junior, Cadette, Senior, Ambassador, and Family)

Abrakadoodle Art Studio for Kids® is all about CREATIVITY! We provide the highest quality, educationally rich Art Classes, Summer Camps, Special Event Classes, and Birthday Parties!

(Daisy, Brownie, Junior, Cadette, Senior, Ambassador, and Family)

The Air Zoo combines interactive and educational experiences with once-in-a-lifetime activities, including world-class exhibits, full-motion flight simulators, amusement rides, and a 4D movie theater.

(Daisy, Brownie, Junior, Cadette, Senior, Ambassador, and Family)

The Ann Arbor Hands-In Museum is a leader in imaginative and interactive learning experiences, which inspire people to discover the wonder of science, technology, engineering, art, and math.

(Daisy, Brownie, Junior, Cadette, Senior, Ambassador, and Family)

We'll help your troop earn badges or collect patches. Explore the ancient techniques in clay hand building to earn the Potter Badge or discover your talent in pottery painting, glass fusing, canvas painting or jewelry making.

(Daisy, Brownie, Junior, Cadette, Senior, Ambassador, and Family)

Looking for a high-energy entertainment field trip that is guaranteed to make jaws drop for kids, students and adults alike (no, seriously)? Blue Man Group is great for all ages from elementary school to college.

(Daisy, Brownie, Junior, Cadette, Senior, Ambassador, and Family)

In our fun, educational programs, students will experience hands-on engineering fundamentals as they build motorized models using LEGO Bricks.

(Daisy, Brownie, Junior, Cadette, and Family)

Let's get together to earn your Financial Literacy Badge! Get on the path to financial success at Community Choice Credit Union. Visit either our Northville or Jackson area Member Centers to learn more about how we support individuals and Troops in this effort.

(Daisy, Brownie, Junior, Cadette, Senior, Ambassador, and Family)

The Croswell welcomes groups of all ages to its productions, which include plays, Broadway-style musicals, and children's shows.

(Daisy, Brownie, Junior, Cadette, Senior, Ambassador, and Family)

Eastern Michigan University is home to 21 division-one athletic programs. Group and business discounts are offered year-round.

(Daisy, Brownie, Junior, Cadette, Senior, Ambassador, and Family)

Enter a locked room where you must find clues, solve puzzles and riddles, and work together to escape before time runs out!

(Cadette, Senior, Ambassador, Family)

The worldwide leader in producing and presenting live family entertainment experiences which includes Disney On Ice, Marvel Universe Live!, Sesame Street Live!, Disney Live!, Monster Jam and Supercross.

(Daisy, Brownie, Junior, Cadette, Senior, Ambassador, and Family)

Featuring a huge 40-foot indoor double-decker playground and special toddler area, an artist corner, dress up and a book nook area, Funday's is your premier destination for indoor play, birthday parties and loads of family fun!

(Daisy, Brownie, Junior, and Family)

Geiser-Weaver Crafts—your Mobile Art Solution, will come to your meeting location, at the time & day you desire to provide your girls with a fun workshop.

(Daisy, Brownie, Junior, Cadette, Senior, Ambassador, and Family)

Goldfish Swim School Ann Arbor specializes in teaching children the importance of water safety. Join us for an interactive W.A.T.E.R Safety Presentation followed by family swim for the whole troop! Each Girl Scout will receive a special Water Safety Badge and free trial card!

(Daisy, Brownie, and Junior)

We provide horseback riding trail rides, lessons and clinics for beginners and up. In our Art Studio we will work with you on badges and help you be EPIC! Evolving Positively through Inventing and Creating.

(Daisy, Brownie, Junior, Cadette, Senior, Ambassador, and Family)

Do you have Scouts interested in animals, nature or protecting the earth? We have a variety of experiences for Scouts from a visit to the Zoo to overnight programs. Many of our topics can help Scouts in reaching their Scout goals. Discover the possibilities and register online at Indianapolis Zoo!

(Daisy, Brownie, Junior, Cadette, Senior, Ambassador, and Family)

Impression 5 Science Center is a dynamic space for Scouts to discover science through hands-on exhibits and STEAM programming that focuses on building scientific behaviors and maker identities.

Interested in taking your troop to explore nature? Want to help them build new skills and gain confidence in a new setting? We offer a wide range of programming, including naturalist hikes, field ecology lab and farm experiences, and adventure skills courses.

(Daisy, Brownie, Junior, Cadette, Senior, Ambassador, and Family)

Kidopolis has 8 specially designed themed rooms in a village concept. Come see how you can see how we re-create "fun" thru recycling and creative invention while moving freely room to room

(Daisy, Brownie, Junior, Cadette, Senior, Ambassador, and Family)

Discover your musical creativity and learn to play the piano at Kings Keyboard House. Call to learn more. Sign up for your free preview lesson!

(Daisy, Brownie, Junior, Cadette, Senior, Ambassador, and Family)

Educating and inspiring visitors to discover, understand, and respect their natural environment is the goal of all Leslie Science and Nature Center's programs. We offer over eight 2-hr nature and outdoor education-based badge workshops from Bugs to Hiker to Letterboxer.

(Daisy, Brownie, Junior, Cadette)

Longway Planetarium is Michigan's largest planetarium, bringing you state-of-the-art dome graphics and immersive experiences with science, technology, engineering, and math. Choose from shows to match a variety of interests, as well as badge workshops and overnights.

(Daisy, Brownie, Junior, Cadette, Senior and Family)

Special Scout Days at Northville's Historic Marquis Theatre!

(Daisy, Brownie, Junior, Cadette, Senior, Ambassador, and Family)

Customizable visits may include a musical performance, a tour of the reparir and retail operations or an instrument petting zoo. Try out different band instruments to find your favorite and earn a free music patch for your trip!

(Daisy, Brownie, Junior, Cadette, Senior, Ambassador, and Family)

Live horsemanship, falconry, jousting and all pageantry that is Medieval Times. All while enjoying a hands on four course feast fit for royalty!

(Daisy, Brownie, Junior, Cadette, Senior, Ambassador, and Family)

Michigan Theater's Not Just For Kids offers a fun assortment of live family-friendly professional theatrical performances, introducing kids to live music and theater!

(Daisy, Brownie, and Junior)

At Michigan Women's Historical Center & Hall of Fame, travel back in time to learn how women fought for the right to vote right here in Michigan.

(Daisy, Brownie, Junior, Cadette, Senior, Ambassador, and Family)

Ski Girls Rock is a two day program led by female instructors focusing, not only on improving skiing technique, but also empowering girls through the sport and building students' confidence while developing friendships, teamwork and social skills.

(Brownie, Junior, Cadette, Senior, and Ambassador)

Come have an adventure while exploring the following: 1800's Wild West Adventure, Petting Zoo (Have you pet a Skunk before?), swimming, retreats, horseback riding, hay rides, bonfire, cook outs, fishing, and much much more.

(Daisy, Brownie, Junior, Cadette, and Family)

Bring out your inner artist! Badge workshops for all ages: Painting, drawing, clay, jewelry, fiber or collage. Tours of our Gallery & Store. (Daisy, Brownie, Junior, Cadette, Senior, Ambassador, and Family)

Pretzels, Chocolate Goodies, Gingerbread Houses, Pies, Moravian Stars, and more. Enjoy a gigantic corn maze and hayrides in autumn. Discover Michigan agriculture on our farm: we've been here since 1853 growing good things in PureMI!

(Daisy, Brownie, Junior, Cadette, Senior, Ambassador, and Family)

We offer Camps, Kids Night Out, Birthday Parties, and other special events personalized to meet your needs. Peachy Fitness also offers Girl Scout programs to girls in Ann Arbor and the surrounding areas. There's also special pricing for the Girl Scout group fitness events. To learn more about hosting your private event, please check out our website!

(Daisy, Brownie, Junior, Cadette, Senior, Ambassador, and Family)

We run Farmers Markets in Kalamazoo and Portage, Michigan.

(Daisy, Brownie, Junior, Cadette, Senior, Ambassador, and Family)

Providing quality arts program to the greater Western Wayne community since 1969, the Plymouth Community Arts Council offers badge workshops for all ages: drawing, painting, pottery, jewelry, printmaking, and more.

(Daisy, Brownie, Junior, Cadette, Senior, Ambassador, and Family)

Jewelry making parties available for groups in Old Town, Lansing. Earn a badge while you create a piece you can take home and wear!

(Daisy, Brownie, Junior, Cadette, Senior, Ambassador, and Family)

Preuss Pets offers several badges for fun and interactive programs at Preuss Pets! Have you ever thought about doing yoga with a bearded dragon and a fish? Probably not! Come experience yoga with the animals in our Preuss Pets classroom!

(Daisy, Brownie, Junior, Cadette, Senior, Ambassador, and Family)

"Breed. Rescue. Protect." Marine Conservation Patch Program is a great opportunity to teach scouts about the threats that face underwater creatures and the actions they can take to protect them.

(Daisy, Brownie, Junior, Cadette, and Family)

At Shawhaven Farm is family owned and operated since 1947, it's a working and educational farm. We have opened our farm so families (especially the young & the old at heart) can get in touch with their farm side by experiencing agricultural and farm life up close.

(Daisy, Brownie, Junior, Cadette, Senior, Ambassador, and Family)

Mackinac Island is the perfect destination for your Troop's next outing. Let Shepler's Mackinac Island Ferry help plan your trip. Special pricing is available for Girl Scout Troops.

(Daisy, Brownie, Junior, Cadette, Senior, Ambassador, and Family)

Come Rollerskating with Skatin Station Family Skating Center! Bring your troop during an open skating session, or bring your entire neighborhood for a Private Party!

(Daisy, Brownie, Junior, Cadette, Senior, Ambassador, and Family)

Take your troop to the sky and earn a badge with Sky Zone! Enjoy a healthy and engaging trip to Sky Zone with your troop!

(Daisy, Brownie, Junior, Cadette, Senior, Ambassador, and Family)

Hands-on science and history museum as well as workshops and overnights.

(Daisy, Brownie, Junior, Cadette, and Family)

Cheer on the Red, White & Blue as Team USA kicks off their 20th season in Plymouth. Your troop will love all the fun, energy and excitement at a Team USA game from October thru March as they take on NCAA, International and USHL Teams.

(Daisy, Brownie, Junior, Cadette, Senior, Ambassador, and Family)

Uncle John's Cider Mill is open daily 9:00 a.m.–6:00 p.m. Come on out and enjoy free Jumping Pillow, Yard Games, and Kids Corral. Our Gemstone Mining is available during business hours. We have Cider and Donuts, Baked Goods, Fudge, and Ice Cream.

(Daisy, Brownie, Junior, Cadette, Senior, Ambassador, and Family)

Come visit the farm! The foods you eat, the clothing you wear, and the home you live in all came from a farm somewhere. Delicious food from around the globe make a great culinary heritage in the USA. Learn more about the foods you eat!

(Daisy, Brownie, Junior, Cadette, Senior, Ambassador, and Family)

As the first professional theater dedicated to families in Michigan, we bring to life the very best in children's classics, introduce stories from other cultures, and provide a theatrical experience like no other! 2017-2018 productions include Little Women, Frog and Toad, and The Wizard of Oz.

(Daisy, Brownie, Junior, Cadette, Senior, Ambassador, Family)