Events
Weiss Centennial Farm and Frankenmuth Corn Maze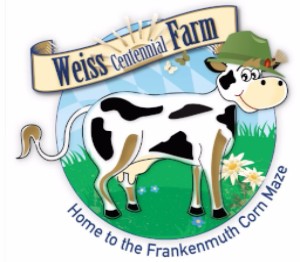 Our Programs are customizable for scouts of all ages!
Autumn: Corn Maze Fun, Hayrides, Pumpkins, Scarecrows, New World Feast, Michigan's Cornucopia.
Winter: Gingerbread Haus, German Christmas Feste, Pretzel Party, Just Say Cheese!
Spring: Breads and Buns, Chocolate Creations, German Princesses and Fairy Tales
Year Round: Food Art, Our Pure MI Farm thru Three Centuries, Fruity Flower Construction, Frankenmuth Scavenger Hunt, Country Girl-Farm Girl-Cowgirl: Yee Haw!
Age Level: Daisy, Brownie, Junior, Cadette, Senior, Ambassador, and Family
Addresses:
5450 Weiss Road,
Frankenmuth, MI 48734
Contact:
Phone: 989-652-8748