Volunteers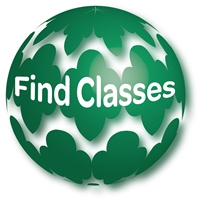 Educational Opportunities for Adults
for Parents, Volunteers and Community Members
Helping girls build leadership skills requires special knowledge and techniques that Girl Scouts has been perfecting for more than 100 years. If you're an adult, who's interested in working with girls, we're here to help prepare you for what's sure to be one of the most rewarding experiences of your life.
While all registered volunteers receive basic education for their position, our courses are of value to anyone who works with girls, including parents. You're sure to grow wise yourself as you learn how to help the girl(s) you care about build courage, confidence, and character to make the world a better place.
The following are some of the ways we offer education to adults in Girl Scouts. We realize that everyone learns differently, that's why we offer written resources, face-to-face opportunities, interactive online learning, round tables, and more.
Remember! Learning can happen anywhere, at any time. Often, participating in an activity with girls is the best time to learn about yourself, your leadership style, and what you want to learn more about. Working in the field with girls is a great way to practice what you learn in one of our classes, and when you have questions, we'll be right here to help you discover the answers!
Class Descriptions
Resources
Course Fees
When a fee is charged, it covers the cost of equipment and materials used. The fee or financial assistance form must accompany registration to hold a place in the class. "No shows" will forfeit the course fee. Those who cancel 24 hours in advance may transfer the fee to another session. Financial assistance is available for all adult learning opportunities. Troop funds may also be used to pay for adult learning opportunities.
Late Fee Policy
Deadline for adult learning opportunities registrations is five business days before the adult learning opportunity takes place (unless otherwise noted). Registrations received during the late registration period are required to pay the $5 late registration fee in addition to the course fee. Walk-ins on the day training is taking place are considered late registrations. Receiving training registrations on time allows us to provide you with the best training experience, to be fully prepared, and to have all the resources/materials necessary for all participants.
Cancellations
Adult learning opportunities may be cancelled due to low registration. If there is a cancellation, all registered participants will be notified. If you cannot attend an adult learning opportunity you are registered for, please call as soon as possible so someone else can potentially take your spot in the course. In case of bad weather, all participants will be notified via phone and email if the course is cancelled.
Childcare
Childcare is not provided at Girl Scout training classes and events.