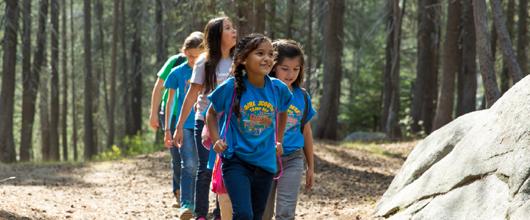 What's New
Journeys and badges in cybersecurity,
eco-camping, robotics, college prep, space science, and more!

Hooray! More new Girl Scout Journeys and badges are on the way!
Combined with existing programs, these new Journeys and badges help girls empower themselves to unleash their inner strengths and accomplish amazing things.

Life Skills Badge
College Preparation
From test prep to financial aid, Ambassadors walk through all the steps of the college admission process and get ready to attend the school of their choice. 

STEM Journeys
Engineering | Think Like an Engineer: Girls discover how to think like an engineer by participating in hands-on design challenges and complete a Take Action project.
Computer Science | Think Like a Programmer: Girls learn how programmers solve problems by participating in computational-thinking activities and complete a Take Action project.

STEM Badges
Computer Science | Cybersecurity: Girls learn how computers and the internet work and apply the concepts of safety and protection to the technology they use every day.

Engineering | Mechanical Engineering: Girls use design thinking to complete hands-on mechanical engineering design challenges.
Engineering | Robotics: Girls learn how robots are designed, built, and programmed. "Unplugged" activities allow girls to earn badges without kits.
Space Science: Girls learn all about the Solar System and our place in it. Just like real space scientists, girls explore, observe, and investigate the Sun, Moon, and stars and discover that space is bigger and even more exciting than they may have imagined.
 Outdoor Badges 
Environmental Stewardship
From learning to care for our planet to minimizing our ecological impact outdoors to advocating for nature, girls learn how to become stewards of our precious environment.
Looking for even more? Visit the Award and Badge Explorer to get details on every badge a Girl Scout can earn.