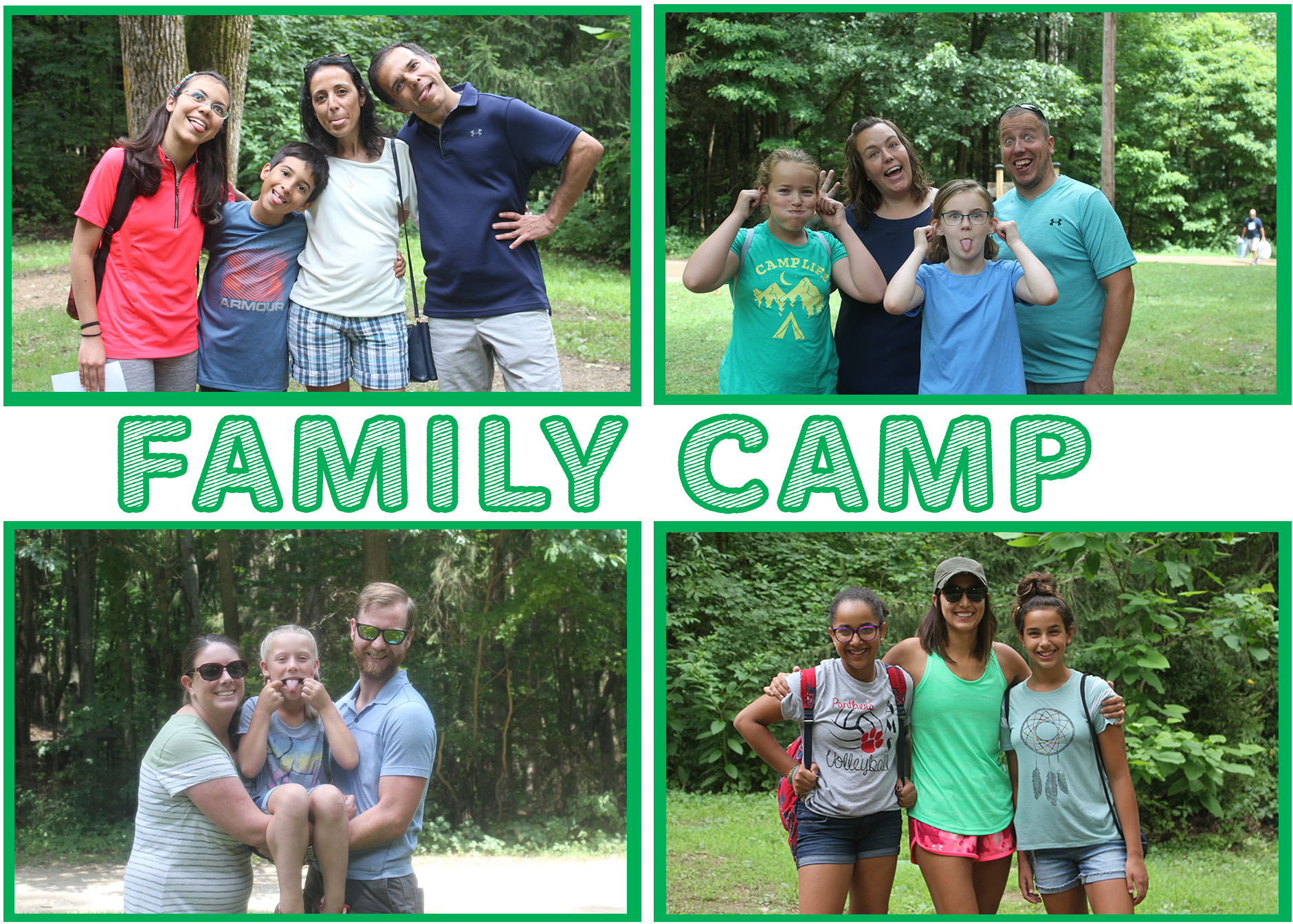 Family Camp In Michigan
We are so incredibly lucky to have several beautiful properties that offer year-round camping for families to enjoy the outdoors in Michigan!
Come have fun at camp as a family unit, reserve a lodge to stay overnight or just visit for a day trip, either way, your family will have a memorable time together! 
Learn more about each Girl Scout camp below!
Jan-May
June 1-18
July 6-9
August 9-20
September-Dec
Jan-May
June 1-18
July 6-9
August 16-20 September-Dec
Contact Us
Fill out this form for more information on how to reserve
| | | |
| --- | --- | --- |
| Archery       | Hatchet Throwing | Knifes and Knots |
| BB Gun | Climbing Wall | Swimming |
| Air Rifle | Boating | Nature Hike |
| Slingshot | Horseback Riding | Camp Crafts |
| Teambuilding | Firebuilding | Snowshoeing |
Activity Pricing
Activity pricing for families is $12 a person and per an activity. 

Want an activity that you don't see listed? Feel free to reach out and let us know! We strive to cater to the needs and goals of your group.

*Activities vary by site and season. Some age restrictions apply.
Sample Schedule
| | |
| --- | --- |
| 10:00 - 11:30 AM | Archery |
| 12:00 - 1:00 PM  | Lunch |
| 1:00  - 2:30 PM | Outdoor Skills |
| 2:30 - 4:00 PM  | Hatchet Throwing |
Looking for a map of camp? Click below for each camp location.
Policies & Procedures
Please ensure your enjoyment by reviewing these procedures before arriving at camp! 
FAQ's
We have compiled some frequently asked questions to prepare those who are interested.
Are pets allowed?

No pets are allowed at this time.

Can I bring family members from a different household?

In these unprecedented times, families must decide for themselves who to camp with.  Groups will have the ability to sign up for activities either as a family unit or group.  Smaller groups may be asked to sign up for a shorter session or socially-distanced share an activity area with another group, depending on the current guidelines.

What are your cleaning procedures?

All staff are trained in the latest cleaning and sanitizing techniques as recommended by the Center for Disease Control, local Health Departments, and cleaning product manufacturers.  Guests are encouraged and welcomed to assist us in leaving camp better than they found it, tidying up their spaces after their visit.

What steps are you taking to ensure the safety of families?

Activity Leadership – Camp activities are always led by certified, experienced staff members trained in facilitating each activity safely
Food – Families have the opportunity to choose the food they want to bring and prepare in the safety of their lodge, campsite, or group of lodges.  Limited outdoor cooking supplies such as Dutch ovens, roasting forks, and pie irons are available to borrow.  A $50 cleaning deposit is required
Lodging – We are offering one family/group per lodge, campsite, or group of lodges, and are encouraging only people living in the same household to share a cabin
Check in procedures – families will be asked to complete a pre-check in screening survey prior to their arrival, and participate in a health screening (including a temperature check and brief interview) upon arrival.
Cleaning and Sanitation – Camp facilities are cleaned regularly, with schedules and checklists clearly posted.  Lodges and cabins are sanitized in between every rental, and activity areas are sanitized between each use. 
Social Distancing and Masks – We are following the social distancing and mask recommendations of the CDC and the State of Michigan as they evolve.

Are linens and/or toiletries provided?

Families are responsible for bringing their own towels, linens, sleeping bags, and pillows.  Toilet paper, paper towels, and soap are provided in lodge bathrooms and shower houses.

Will you be providing family camp on an ongoing basis?

We have always offered family camping opportunities; we remain committed to getting girls and their families into the out of doors.  We will continue to monitor the Covid-19 situation and adjust plans accordingly.

Who can come to family camp?

This is intended for people in the same household who are social distancing together, or cohorts of close friends who are social distancing together.

Can I attend just for the day?

Use of camp will be reserved for those either camping or who have a pass for that day's activities.  Boating, Horseback Riding, Archery, Climbing Wall, and Air Rifles will be available for reservation at gshom.org/family-camp.  All activity area capacities have been adjusted to allow for social distancing.  All activity equipment is sanitized between each use.

Can we bring our own firewood?

Local firewood that has been harvested on-site is available for sale at camp for $5 per bucket load.  We are asking guests to support their local Girl Scout camps by leaving firewood at home.  As you may know, many states in the Great Lakes region and beyond have areas under quarantine for pests such as gypsy moth, Asian long horned beetle, spotted lanternfly, oak wilt, and other damaging invasive forest pests, and it is illegal to move any regulated items (most firewood is considered a regulated item) from any quarantined zone into Michigan.  More information can be found here. 

Are cookies available for sale?

Your favorite Girl Scout cookies, in addition to several other items such as face masks, basic camping items, batteries, t-shirts, and other mementos will be available for purchase at each camp at our camp trading posts.