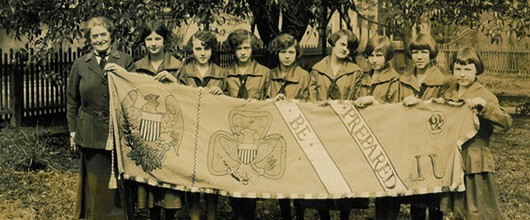 Our History
Juliette Gordon Low had a dream.
In March 1912, when she brought that first group of girls together in Savannah, Georgia, she wanted them to explore new possibilities and the wonders of the world around them—and she wanted them to do it together.
Along with Juliette Gordon Low, also known as "Daisy," these first Girl Scouts blazed trails and redefined what was possible for themselves and for girls everywhere. They played basketball. They hiked, swam, and camped. They learned to tell time by the stars. And most importantly, they shared a sense of adventure and a belief that they could do anything. And just like Girl Scouts do across the country and around the globe today, they offered a helping hand to those in need and worked together to improve their corner of the world.
Since the founding of the Girl Scout Movement more than a century ago, Daisy's small circle of girls has grown to include nearly 2 million girl members and more than 50 million Girl Scout alums—united across the decades by a spirit of lifelong friendship and shared adventure and the desire to do big things to make the world a better place.

Read more about Juliette Gordon Low and Girl Scout history.

"Truly, ours is a circle of friendships, united by our ideals." 
— Juliette Gordon Low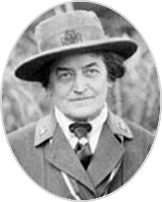 Girl Scouts of the USA was founded in 1912 by trailblazer Juliette Gordon Low.
We are the largest girl-serving organization in the United States and a member of the World Association of Girl Guides and Girl Scouts , a sisterhood of close to 10 million girls and adults in 145 countries.
In Kalamazoo, troops were active and in 1918 received Charter #49 from Girl Scouts of the USA, signed by Juliette Gordon Low.
1925
Jackson Girl Scouts received their charter
1927
The Lansing Girl Scout Council was chartered.
1920's
Troops were active in the Saginaw, Midland, Bay City, Washtenaw and Livingston Counties.
1957
Michigan Capitol* Girl Scout Council was formed joining Clinton, Eaton and Ingham Counties.
1958
Huron Valley Girl Scout Council was formed, joining girls in Livingston, Washtenaw and Western Wayne Counties.
1960
Girl Scouts Irish Hills Council was formed, joining girls from Jackson, Lenawee and Hillsdale Counties.
1962
Mitten Bay Girl Scout Council formed, bringing together girls from Arenac, Bay, Clare, Gladwin, Gratiot, Huron, Iosco, Isabella, Midland, Ogemaw, Roscommon, Saginaw and Tuscola Counties and Oscoda in Alcona County.
1964
Girl Scouts of Glowing Embers Council was formed to serve Allegan, Barry, Branch, Calhoun and Kalamazoo Counties and communities in Berrien County.
2008
Girl Scouts Heart of Michigan was formed as a merger of five Girl Scout Councils: Ann Arbor, Girl Scouts of the Huron Valley Council; Jackson, Girl Scouts Irish Hills Council; Kalamazoo, Girl Scouts of Glowing Embers Council; Lansing, Girl Scouts of the Michigan Capital Council*; Saginaw, Mitten Bay Girl Scout Council; and St. Joseph, Shiawassee and Van Buren Counties.
2012
The former council headquarters are now regional centers, serving 24,000 girls and 6,000 adult volunteers in 34 counties in southwest, central ,and northeast lower Michigan.
*The spelling changed from Capitol to Capital in the 1990's.