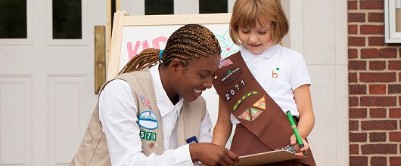 Girls are first at Girl Scouts. And they always will be.
Girl Scouts is her home turf, her go-to place where she's free to try new things and just be herself, no matter what her interests are. And now there's even more to explore, with new badges in robotics, outdoor adventuring, cybersecurity, and environmental stewardship—to name just a few! Join or volunteer today, and give her the tools to shine! 
Continue >

Talk about your Girl Scout experience on Facebook, Instagram and Twitter using the hashtag #GirlScoutStrong! What skills have you learned as a Girl Scout or as a Girl Scout Volunteer? How has your leadership skills grown? What opportunities have you found through Girl Scouts?
Continue >

The Girl Scout Gold Award is the highest award that a Girl Scout can earn. The leadership, organizational skills, and sense of community and commitment that come from "going for the Gold" set the foundation for a lifetime of active citizenship. Every year, the Girl Scouts Heart of Michigan honors an amazing group of new Gold Award Girl Scouts who will go on to become amazing leaders around the world! Click "continue" to learn about the 2018 Gold Award Girl Scouts!
Continue >