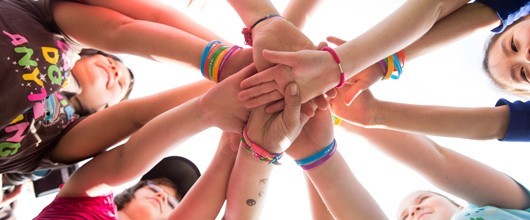 Ways To Participate
The moment a girl's registration is complete, she is a Girl Scout! No matter what her path might be, she enjoys all the benefits Girl Scouting has to offer. All of her Girl Scout experiences will help her become a leader and decision maker, teach her to have healthy relationships and make healthy choices, be brave and caring, and to have the confidence to know that she is an equal partner in this world.
A Girl Scout can participate in so many ways. Choose one, or many, there's no limit.
Attend an event this weekend, go to camp in the summer, earn badges in the fall—what will you do? Membership is open to ALL girls in grades K–12! And you can join anytime of the year, how cool is that!
There are tons of ways to have fun and explore the world in Girl Scouts. It all depends on what you're interested in. Take a look!
 

The most familiar avenue of Girl Scouting is the troop. Troops get together to explore the outdoors, gain practical life skills, and have fun. Troops earn badges, camp, invent, go on field trips, learn archery, and so much more; all in the comfort of a familiar group setting. When we have interested girls, but lack an adult volunteer for leader, we may form a starter troop. This is a 6-8 week troop experience led by staff and/or seasoned volunteers with the goal of mentoring and training adults to transition into a classic troop. 

Become a Girl Scout Juliette
Named after Juliette Gordon Low, the founder of Girl Scouts, a Girl Scout Juliette is an individual Girl Scout, mentored by a parent or other adult. She is able to build a custom Girl Scouting experience, while enjoying all Girl Scouts has to offer. It is an adventure created for her by her, whenever she wants! Download the Girl Scout Juliette Guidebook!

 You can get outdoors or go to camp
 
The possibilities are endless at our overnight, day, and troop camps! She can travel through time, learn new adventurous skills and explore the great outdoors while making new friends along the way. Interested in our marvelous, state of the art camps? 

You can travel the country—maybe even the world
 
Embark on multicultural adventures! Can you imagine the knowledge, courage, and opportunity she will embrace, traveling into new and unfamiliar lands? Even when close by, traveling is a staple of the Girl Scout experience, enhancing the overall goal of creating girl leaders who are confident and strong.

 You can explore your interests through series and events



All our event programs are created with the 15 leadership outcomes in mind. Girl Scouts Heart of Michigan is building leaders who are going to change the world. Not only will she have fun, your Girl Scout will be able to advocate for herself and others, develop positive and healthy relationships, and become her own moral compass. At Girl Scouts, she'll lead herself to her very own future with the teachings retained from our noteworthy events.   
Participation in our product programs allow girls to pay for their own camping, travel, and even membership, truly making this her own adventure. Additionally, she will attain five important skills: goal setting, decision making, money management, people skills, and business ethics.    
Hey parents/caregivers, interested in leading her Girl Scout Troop or being her Juliette mentor?